FORESEA Project Marks Project Successes at ICOE Drinks Reception
Since its launch, FORESEA has increased real-sea testing activity in the ocean energy sector. Ten projects have hit the water at European test centres with FORESEA support, with more to come in the next 18 months. To mark this success, a drinks reception will be held at ICOE2018 on Wednesday 13 June. A fourth and final call for applications to the FORESEA programme is open until 29 June 2018.
La Cité de la Mer - Cherbourg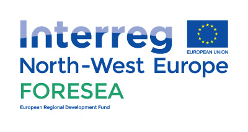 High demand. High delivery
Since its launch in 2016, demand for testing through FORESEA has been very high. Furthermore, the project has resulted in a significant increase in real-sea testing activity in the ocean energy sector.
To date, 14 technology demonstration projects have successfully secured support packages through FORESEA. Ten of these projects are either underway or are already completed. Developers will secure several more support packages before the programme's conclusion at the end of 2019.
Oliver Wragg, Commercial Director at the European Marine Energy Centre (EMEC) said:
"Two years into the project, FORESEA has made a tangible impact on the level of real-sea testing activity happening in North West Europe, driving investment into the sector and showing ocean energy's true potential as a corner stone in establishing a pan-European clean energy system.
This activity is creating the critical mass of technology and innovation needed to prove performance and bring ocean energy to commercial readiness. It has also generated a lot of valuable collaboration and knowledge-sharing between the FORESEA technology developer and test centre network. We hope this collaboration will continue in the longer term."
Rémi Gruet, CEO of Ocean Energy Europe said:
"FORESEA has been successful because it efficiently allocates public support for ocean energy where it is needed: pre-commercial testing. Technology demonstration in real-sea conditions is a costly, but necessary step on the road to commercialisation, and FORESEA's support packages enable this.
With ten technologies deployed, and more to come, we sincerely congratulate the FORESEA team on its success."
A fourth and final call for applications through the FORESEA programme is open until the 29 June 2018. For more information, consult
www.foreseaproject.eu
FORESEA Reception at ICOE2018
To take stock of this success, the FORESEA project, with the support of Agence Regional Pays de la Loire, will hold a drinks reception at ICOE2018. The reception will take place at 5pm on Wednesday 13 June in the Pays de la Loire pavilion.

Successes to date: FORESEA projects in the water
FORESEA has resulted in a number of innovation wins for the offshore renewable energy sector.
Antoine Félix-Henry, SEM-REV Manager, Centrale Nantes, said:
"FORESEA project enables SMEs to test ocean energy technologies in open-sea conditions and bring them closer to the commercialisation stage. It is mutually beneficial for both parties: developers get offshore experience at the test sites, and test sites improve their methodologies and expertise. This helps strengthen Europe's status as the centre of offshore renewable energy innovation worldwide".
See some of the companies which are undertaking real-sea testing programmes with FORESEA support in the press release. Below details of the 3 projects tested on the Centrale Nantes offshore test site, SEM-REV:

NEREIS Environnement – SEAc project
Testing an acoustic monitoring technology to perform acoustic impact assessments for marine renewable energy projects, using the Floatgen floating wind demonstration project at SEM REV.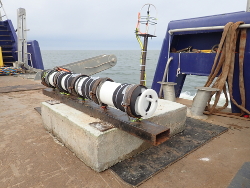 Acoustic of the Sea Project (SEAc-NEREIS ENVIRONNEMENT)

Ideol - Floatgen2
The extended testing of a Ideol's 2 MW floating offshore wind system in a real-sea environment at SEM REV. The testing will validate power production performance, and also include an environmental impact assessment.
FMGC
The deployment of cables with different sections and linear masses to evaluate on-bottom lateral stability at SEM REV. Amongst other things, the project will also evaluate corrosion, abrasion and biofouling on cable shells.
Published on June 7, 2018
Updated on July 6, 2018