International (partnership / study)

,
Heritage Network 1st Webinar - Hydrodynamics Research Trends (IIT Madras, Centrale Nantes)
Join the very first edition of the Heritage Network Webinar Series, co-hosted by Prof. Sriram of IIT Madras (India) and Prof. Ferrant of Centrale Nantes.
On March 11, 2021 from 12:00 To 13:00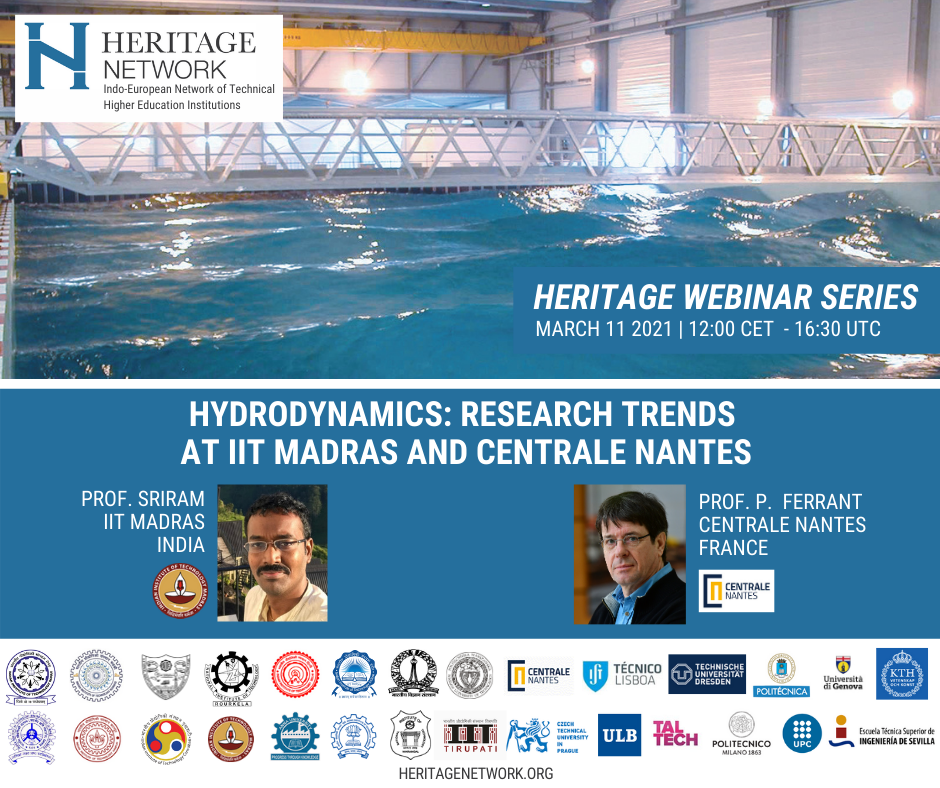 Centrale Nantes is one of the 28 leading technical Higher Education Institutions in the
Heritage Network
, an
Indo-European network
created to strengthen higher education cooperation (research and training) between Europe and India in the field of Engineering Sciences.
Learn more
The newly-launched
Heritage Webinar Series
aims to raise awareness about member institutions research facilities and projects to foster cooperation and promote joint India-EU research projects. For this first edition, the two hosting faculty, Prof. Sriram (
IIT Madras
) and Prof. Pierre Ferrant (Centrale Nantes) will present the research facilities and ongoing research projects at their respective institutions in the field of
hydrodynamics
.
The 1 hour webinar kicks off at
12.00 pm CET
and will break down as follows:
20-minute presentation by Prof. Sriram
20-minute presentation by Prof Ferrant
20-minute Q&A session and open discussion
To join us:
Meeting ID: 967 3814 0233
Password: 9E3Ze.Sv

Members of the Heritage Network, faculty, researchers or PhD students in hydrodynamics are welcome to attend, as is anyone who is curious to know more about IIT Madras and Centrale Nantes work in the field. It will also be an opportunity to discover world-class research facilities as both institutions are well-reputed for their research structures in hydrodynamics.

N.B. The webinar will be recorded and available for replay on the Heritage Network Youtube Channel.

Published on February 11, 2021
Updated on February 11, 2021