"My thesis in 180 seconds": support Guillaume Jeanneau and Adrien Bourgeade in the Nantes final
Due to the current health crisis, the Nantes final will be held behind closed doors at Stereolux and broadcast online.
On March 9, 2021 from 19:30 To 22:00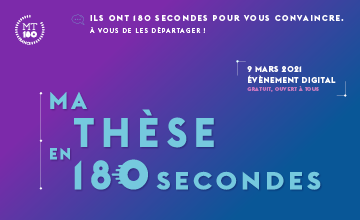 The event, recorded in the afternoon, will be broadcast in the evening at 7:30 pm on the University of Nantes Youtube channel. After the 13 presentations, you will be able to vote for the most convincing candidate and perhaps allow him or her to progress to the next stage of the competition; the interregional final to be held in Angers on 17 March.

In addition, a panel of experts from the world of research, industry, media and scientific outreach will select a further three candidates to continue the adventure.
2 Centrale Nantes PhD students are taking part in the Nantes final: Guillaume Jeanneau and Adrien Bourgeade, both at the LS2N.

Published on March 3, 2021
Updated on March 3, 2021