Panagiotis KOTRONIS awarded the AFPS prize
Congratulations to Panagiotis KOTRONIS, Professor at Centrale Nantes and member of the Research Institute in Civil and Mechanical Engineering (GeM). In recognition of his research, he has been awarded the AFPS (French Association for Earthquake Engineering) prize.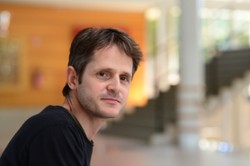 The AFPS prize was established to foster and promote studies, research and innovation in the field of earthquake engineering. The prize is awarded during the association's national conference, held every four years. Engineers, academics and researchers are eligible to participate in the contest, individually or as part of a team, provided that they are under 45 years of age at the date of submission.
Work submitted to the contest should focus on one of the following:
Material behaviour
Development of calculation methods
Design of earthquake-resistant structures
Development of equipment and specific materials
Applied research leading to innovation in earthquake engineering
Earthquake engineering training and information for the public and professionals
Sociological issues linked to seismic risks
The ninth AFPS national conference was held this year at IFSTTAR (the French Institute of Science and Technology for Transport, Development and Networks), in Marne-la-Vallée from the 30th November to 2nd December. The theme of this year's conference was anticipating, limiting and managing the consequences of earthquakes.
Published on December 4, 2015
Updated on April 11, 2017