Meet Rebecca Fribourg, Luciano Vidal and Emma Biard at the next TEDxRennes
Come along to the next TEDxRennes to meet Rebecca Fribourg, Associate Professor at Centrale Nantes, Luciano Vidal, researcher in the GeM Institute and Emma Biard, a recent Centrale Nantes graduate. All three will be speaking at the next edition on 25 June.
On June 25, 2022 from 15:00 To 18:00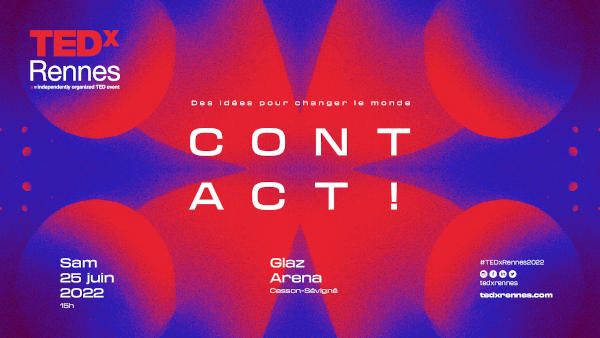 Ten speakers from all walks of life will deliver their message on 25 June at the GLAZ ARENA in Cesson Sévigné on the theme: CONTACT.
Among them, 3 representatives from Centrale Nantes!
Rebecca Fribourg, associate professor at Centrale Nantes, and AAU laboratory
Rebecca Fribourg joined the CRENAU team of the
AAU Laboratory
and Centrale Nantes in September 2021, after a Post-Doc position at Trinity College Dublin. Her research work focuses on the theme of avatars in virtual reality.
Her talk in a nutshell: Issues and limits of the Metaverse: In order to appreciate the advantages of the metaverse, one must first demystify this phenomenon and understand its issues and limits.
Luciano Vidal, Researcher at the Research Institute in Civil and Mechanical Engineering (GeM)
Luciano Vidal, a specialist in 3D printing and bio printing, works at the
Rapid Manufacturing Platform
at Centrale Nantes alongside Prof. Jean-Yves Hascoët on research projects combining engineering and health, such as bone regeneration using 3D printing.
His talk in a nutshell: Biofabrication: the present and future revolution
Emma Biard, Centrale Nantes graduate
A recent graduate of Centrale Nantes, Emma Biard featured in the film
Ruptures
, one of six students from top French universities who decided to embark on an alternative career path in line with their commitment to sustainable development. Emma co-founded fertîles, a school of cooperation and commitment.
Her talk in a nutshell: Take action on the climate emergency to lead a life full of meaning and joy
Learn more and register:
tedxrennes.com
Published on May 25, 2022
Updated on May 25, 2022