The Colas Group and Centrale Nantes strengthen their partnership around public works careers
Bertrand Alessandrini, Director of Development and Corporate Partnerships at Centrale Nantes, and Alain Monnier, Employer Brand and Talent Development Director at Colas Group, signed a new two-year partnership agreement on 24th May.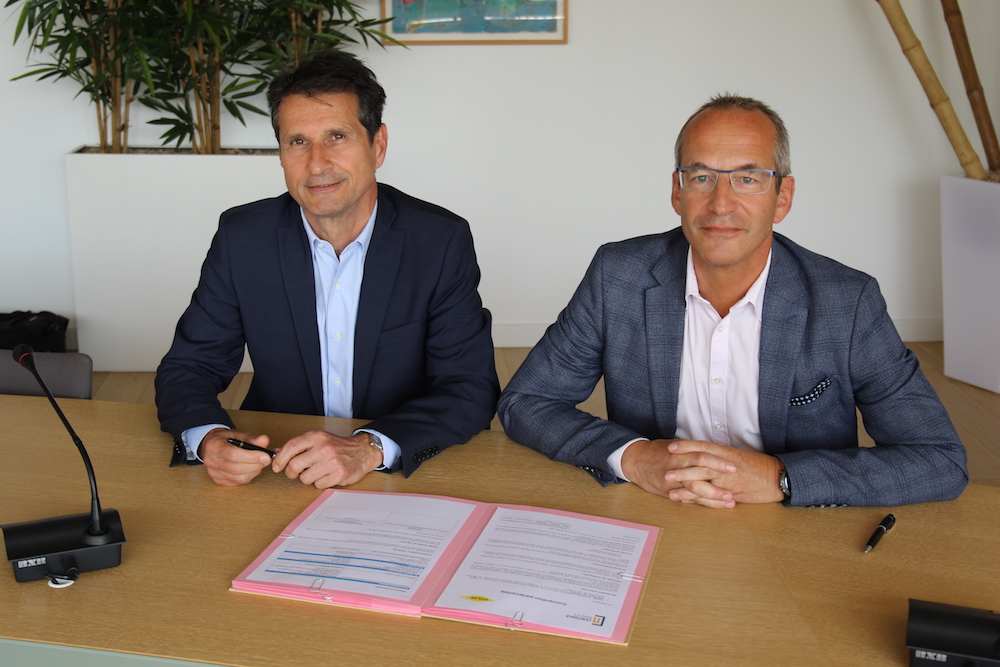 This agreement strengthens existing links between Colas and Centrale Nantes. A partnership was first formed in 2013, establishing a regular presence for Colas on the school campus, notably in the form of business conferences, presentations of career paths within Colas, student participation in the challenges organized by the Group (Golden Roads, Angry Roads etc.) and site visits.
Colas also takes part in the
Forum Atlantique
(job fair) every year and runs a HR workshop to help students build their CVs and prepare for job interviews.
The Colas Group and Centrale Nantes have actions planned to heighten engineering student awareness of the public works sector and, more particularly, of the opportunities offered by Colas.
Numerous Centrale Nantes alumni have joined Colas. They are recognized not only for their technical and people skills, but also for their ability to progress within the Group. This success of the Centrale Nantes model in our organization has prompted our commitment to extend and strengthen our partnership. Alain Monnier, Colas Group
Colas plans to recruit more than 3,200 employees, including 600 at managerial level, in France in 2018. Over 150 young graduates - mainly engineers - will be recruited to fill engineering or management positions, most commonly at the conclusion of an internship. Links with higher education, and especially partnerships with schools such as Centrale Nantes, are thus at the heart of Colas' recruitment policy.
Colas Group's positioning represents a real opportunity for our engineering students to develop strong expertise in a constantly changing environment, in line with the school's research and training focus. Laure Quedillac, head of corporate partnerships at Centrale Nantes.
Published on May 25, 2018
Updated on May 25, 2018