The GeM is organising the ECCM19 2020 Conference in Nantes
The Research Institute in Civil and Mechanical Engineering (GeM) is taking the lead in organising the ECCM19 conference (19th European Conference on Composite Materials) which will be held from 22 to 26 June 2020 at the Cité des Congrès in Nantes.
La Cité Nantes Events Center
Nantes Events Center
from June 22, 2020 to June 26, 2020
EVENT CANCELLED DUE TO THE CORONAVIRUS OUTBREAK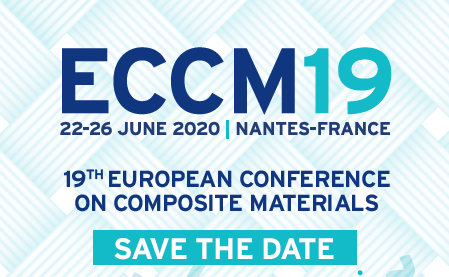 ECCM provides a forum for accessing to the most up-to-date knowledge from both industrial and academic worlds in all the fields of Composite Materials. The meeting will provide an opportunity to highlight latest developments and to identify emerging and future areas of advancement in this dynamic field. At least 1200 participants are expected to attend.
The conference kicks off on day one with short courses for PhD students provided by recognized experts in the field.
Key dates:
Abstract submission opening: MAY 2019
Abstract submission deadline: NOVEMBER 2019
Registration opening: SEPTEMBER 2019
Early bird registration deadline: 31 JANUARY 2020
Published on March 15, 2019
Updated on June 8, 2020