Eric S. - Air Liquide Project Engineer - Homecare UK - UK Healthcare sector
Class of 2016 - Mobility at Universidad Nacional de Colombia
Published on February 28, 2019
–
Updated on February 28, 2019
The fact that I went abroad during my studies also helped me: I feel that I adapt quickly ...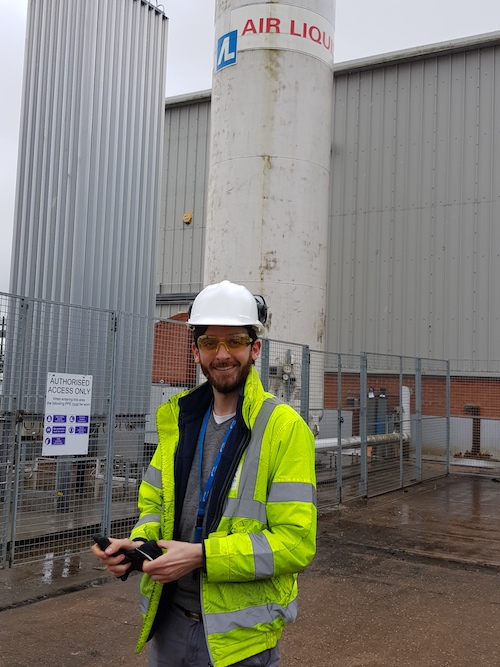 MINI PORTRAIT
I followed the Propulsion and Transport Specialisation in my second year, then I spent my final year in Bogota, Colombia, as part of the Erasmus Mundus programme. I am currently working in the UK health sector - Homecare UK of Air Liquide in London.


YOUR CURRENT POSITION
Homecare UK supplies prescription oxygen bottles to patients in different parts of the UK. The activity covers the entire supply chain, from bottle filling - where I work - to delivery to patients. As a project engineer, I am taking part in a project to relocate / centralize the production of our oxygen products in collaboration with another group entity. More specifically, I'm involved in the design of production tools, the implementation and roll-out of industrial facilities: configuration, equipment and filling process testing and training operators in the use of new facilities. At the end of the project, I need to set up and configure the maintenance software with the new facilities.

WHAT ASPECT OF YOUR TRAINING PREPARED YOU FOR THIS POSITION?
At Centrale Nantes, we acquire a multidisciplinary technical vision that ensures familiarity with most of the subjects I have encountered. The fact that I went abroad during my studies also helped me: I feel that I adapt quickly, even if it has not always been so simple.
Language courses also proved very useful. Communicating in English is of course expected of an engineer but Spanish, Italian or other languages, are very useful on an inter-personal level, especially within a multinational.

ADVICE FOR PROSPECTIVE STUDENTS
I would say to them that acquiring a solid technical grounding is of course important, but languages skills ​​and the "soft sciences" are also key: in order to know how to communicate within a company, but also with people outside the company (suppliers, customers, etc.). This facilitates exchange and helps build links when one shares the same vocabulary.
Published on February 28, 2019
Updated on February 28, 2019