Phd in Civil Engineering Class of 2019
Published on January 17, 2020
–
Updated on January 17, 2020
"At Centrale Nantes I learnt how to work in a team to run successful projects."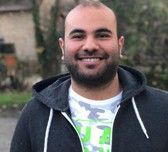 MINI PORTRAIT
I come from Chehim, in Lebanon, and I started my studies in the Faculty of Engineering, at the Lebanese University, specializing in civil engineering. I came to France as part of a double degree with the Centrale Nantes for a research master in civil engineering: materials and structure in the environment. I was also in charge of communication for the ANADYL association in Nantes.
YOUR CURRENT POSITION
I am a faculty member at ESTP PARIS Dijon Campus. I am in charge of coordinating the curriculum over the three years of training and 200 hours of civil engineering courses and I develop research activities with the Institute for Research in Constructability (IRC). This position is interesting because I have a lot of responsibility for teaching evaluation, organising practical work and participation in examination and advisory boards in the school.
WHAT ABOUT ECO-RESPONSIBILITY?
In choosing my line of work, I mainly took into account the activities in which I would be involved, the atmosphere of the work team and the long-term vision.
WHAT ARE YOUR SHORT OR MEDIUM TERM GOALS?
I aim to supervise PhD students and interns and to develop my research internationally and nationally.
WHAT ASPECT OF YOUR TRAINING BEST PREPARED YOU FOR YOUR CURRENT ROLE ?
The solid grounding in civil engineering, teamwork spirit and communication techniques.

WHAT DID YOU LIKE AT CENTRALE NANTES ?
I felt at home. Centrale Nantes really helped me to settle in in France, and I learnt how to work in a team to run successful projects.
ADVICE FOR PROSPECTIVE STUDENTS
Do what you love, set goals and don't be afraid.
CENTRALE NANTES IN THREE WORDS
Professional and cultural establishment.
LinkedIn de Mohamad ACHOUR
Published on January 17, 2020
Updated on January 17, 2020