Quentin R. - Project Manager, TRANSDEV
Class of 2014
Published on November 14, 2017
–
Updated on November 15, 2017
"The school of all opportunities"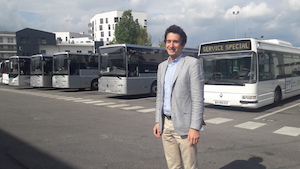 MINI PORTRAIT
Originally from Tours, I was in a high school section for athletically-gifted pupils. I started my engineering studies in Poitiers. At Centrale Nantes, I played in the volleyball team and was elected as a member of the student association, with responsibility for partnerships. In my final year, I specialised in "ocean engineering" and "sustainable cities".
YOUR CURRENT POSITION
I took some time to develop my career plan, and I finally opted for the transport sector, after undertaking an internship with TAN, the public transportation network the Nantes area and a temporary position in the transport department of Lannion. In March 2016, I joined a kind of young graduate programme in the design and engineering department at Transdev (Ile de France Ouest Centre). The programme provides training in the specific transport trades and in particular the optimization of means compared to offers. This is a year-long programme, and I mainly worked on the operations support system and passenger information – in part technical - maintenance, electronics, software, – but also organizational.
For the last month, I have been working on the creation of a control centre for buses in the Ile de France Ouest area: it is a form of operational support to visualize buses, interact with drivers in case of difficulties, manage disturbances, provide passenger information ... It involves building a tool that will be used by the eight transport companies in the area. This showcase project for the company has to be operational in a few months' time.
I like the contact I have with other departments: design office, maintenance, operations, management etc. This transversal aspect is very enjoyable and I also appreciate the "technological" side of my job that includes electronics or software programming. The job is much more diverse than it appears from the outside. There is also the human aspect that will be important to manage, and it will be very rewarding and formative. For personal reasons, I hope to return to the West of France while remaining in the field of transport and design office functions.

WHAT ASPECT OF YOUR TRAINING PREPARED YOU FOR THIS POSITION?

What has helped me most is the multi-disciplinary aspect. It means that I feel comfortable in cross-disciplinary roles, that I understand and can be understood by different groups of people, that I have a good grounding in project management, budgeting etc. The associative life of the school also helps us to develop our soft skills.

WHAT DID YOU LIKE AT CENTRALE NANTES?
I discovered the city of Nantes, where life is pleasant, near the ocean and close to the rest of France. Then, the particularly rich associative life makes it easy to build a network. Finally, studying alongside so many international students is very stimulating!

ADVICE FOR PROSPECTIVE STUDENTS
Centrale Nantes is the school of all opportunities. I had no idea what I wanted to do when I graduated, but the school opened the doors to all professions, it allowed me to experiment and find my way.
CENTRALE NANTES IN THREE WORDS?

Dynamism, International, Sport
Published on November 14, 2017
Updated on November 15, 2017