Max Schmitt Halls of Residence
French and international students joining the first year of the Engineering Programme can ask for a place in the Max Schmitt Residence.
The halls are just next to the campus, 500m from the University Restaurant and 15 mins from the city centre by tram. They comprise two buildings and feature individual, double or triple accommodation.
Bookings for French students are made via the BDE Student Association every year in August - learn more here.
International students should contact the International Relations Department: international

0de19a63-e12b-46bf-82f7-c9c86b304e41

@ec-nantes.fr.
Accommodation is allocated to students who have accepted their place at Centrale Nantes unconditionally.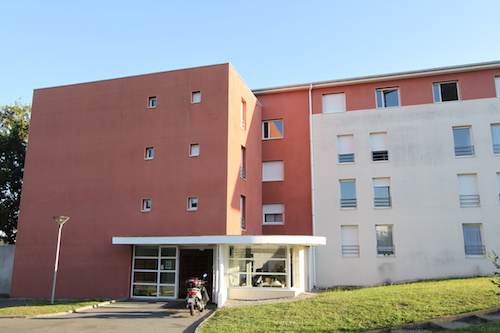 Services
Car and bike parking, storage area for windsurfing equipment
Internet access, laundry, TV room
Each appartment is equipped with a fridge, 2 hotplates, sink, storage space, shower and toilet.
Each room is equipped with cupboards, individual hot water, bed, desk, bathroom facilities.
Published on May 6, 2013 Updated on June 15, 2022
To book your accommodation
> If you are international student
please send an email to internationalbd1d242a-16cc-4ff9-a5e4-fcba8fbbea42@ec-nantes.fr
> Rooms can be booked depending on availability.
> In all cases, bedding is NOT provided.
> To obtain your keys on arrival you should plan to arrive at Centrale Nantes between Monday to Friday (not at the weekend).