BBA Big Data & Management
Acquire a unique blend of expertise in Management and Data Engineering to meet new business needs.
The BBA Big Data & Management is a fully accredited four-year bachelor programme combining Management and Engineering to meet new company needs. Thanks to the association of Centrale Nantes and Audencia, the BBA Big Data & Management is a high quality academic programme with a strong international focus (minimum of 15 months abroad) and excellent employment prospects for its graduates.

Fully taught in English, the programme welcomes a mixed cohort of French and international students. The curriculum is structured into courses coordinated by each school in its field of expertise, followed by jointly run practical courses that link Management and Engineering.

The synergy between the two schools offers a favourable environment and access to two strong alumni networks. The support provided by the Careers Services and close links with partner companies help each student to build his or her own career path.
Programme

The BBA 'Bachelor in Business Administration' is a four-year post-secondary qualification at bachelor level with a strong international focus. It prepares students to successfully enter the workforce or, for those who wish to so, to pursue their studies with a Master's degree. The BBA Big Data & Management programme is fully accredited by the French Ministry of Higher Education, Research and Innovation (diplôme visé bac+4).

Students will be prepared to take on cross-functional management positions. They will acquire both strong managerial skills (finance, management, marketing, strategy) and advanced technical skills in the collection, analysis and use of data for business performance.

Jointly developed by Audencia and Centrale Nantes, this course draws on the academic excellence of both institutions to offer a programme with a strong international and professional focus.




Course Content

Year 1: Acquire basic principles

The aim of the first year is to understand the basic principles in Management and Big Data. Courses are jointly coordinated by the two institutions with each school delivering the courses within its field of expertise.

Semester 1

Accounting / Finance
Algorithmics
Introduction to scientific computing
Marketing Mix
Mathematics I: analysis I
Mathematics II: linear algebra I
Principles of Microeconomics
Sales techniques
English / French
Sport

Semester 2

Cost analysis
Data structures management
Market study
Mathematics III: analysis II
Mathematics IV: linear algebra II
Product innovation
Sales communication
Scientific programming
Internship
Chinese / French
Sport

The year ends with a 3-month internship which can be undertaken in France or abroad. This is designed to develop students' openness and adaptability.

Examples of internships undertaken in 2021/22:

Support for the deployment of Qlik Sense, a visual and interactive data analysis tool, SOCOMORE (USA)
Support for the deployment of the RGPD in companies, PIXWAYS (France)
Management of the various networks of the crypto - NFT platform, participate in the preparation of strategies related to the launch of new products YOH VIRAL LTD (Malta)
Planning, coordinating and supervising the implementation of automatic reporting in the new business unit of UBIK, using data analysis tools UBIK LTD (Taiwan)

Year 2: Consolidate the basics and acquire advanced scientific knowledge

The first half of the year is designed to consolidate the basic principles covered in the first year in business and engineering. Courses continue to be jointly coordinated by the two institutions.

Semester 4 focuses on acquiring advanced scientific knowledge. These courses are taught exclusively by Centrale Nantes faculty on its Casablanca campus in Morocco.

Semester 3

Business Ethics
Consumer study
Databases
Information systems management I
Information systems management II
Mathematics V: probabilities and statistics
Negotiation
Operating systems
Chinese / French
Sport

Semester 4

Artificial Intelligence Fundamentals
AI and Data Mining for Digital Business
Cloud Computing
Data analysis
Data cleansing and data quality
Data mining
Systems security information
Machine and deep Learning
Natural language processing
Scientific visualization


Hear from Pyrahn, class of 2025, on his semester in Casablanca:




Year 3: Acquire advanced management skills and apply knowledge

Semester 5 focuses on advanced management courses. These courses are taught exclusively by Audencia faculty and are held on its campus in Shenzhen, China.

The focus in semester 6 turns towards more applied learning. Students will undertake project-based work and put their knowledge into practice. Faculty from both institutions run and teach these courses jointly.

Students complete the year with a further 3-month internship period. During this internship students will be tasked with undertaking in-depth analysis of an issue linked to their responsibilities within their company and to formulating recommendations.

Semester 5

Semester abroad


Semester 6

Quantum Computing
Digital marketing
Blockchain and purchasing
Customer Relationship Management / Enterprise Resource Planning
Crypto and online currencies
Data and business strategy
E-Human Resources Management
Responsible AI - Ethics
Research methodology
Internship

Year 4: Continue to apply knowledge and build up professional skills

Semester 7 gives students the opportunity to work on tangible new projects, thereby applying the skills acquired throughout the first three years. Faculty from both institutions again run and teach these courses jointly.

The final year internship takes place over a period of six months during semester 8. It is a project-based internship, whereby students are required to undertake and manage a project independently. At the end of the internship, students produce an internship report, which must include a research approach through problem definition, a methodology for dealing with the problem and a literature review.

Semester 7

Big Data & energy
Business intelligence
Decision support system
Digital transformation and enterprise architecture
Fintech
Operations management and Big Data
Personnalisation
Recommendation systems
Supply chain management and Big Data

Contribution to sustainable development goals

► Learn more about Centrale Nantes' commitment to the 17 sustainable development goals

Admission

How to apply for the BBA Big Data & Management


French students:

French students pursuing or holding a French baccalauréat must apply via Parcoursup. Please refer to the French pages for information on eligibility and how to apply: https://www.ec-nantes.fr/version-francaise/formation/bba-big-data-management


International students:

Eligibility

Open to students preparing a high school diploma or equivalent, or having obtained this qualification within the last 12 months.
Applicants must be under 26 years of age on 1 January of the year of entry to the programme.

Selection criteria

Basic criteria:


Academic results - based on a GPA conversion (60%). NB academic records must show courses in mathematics and/or sciences
Mathematics grades (20%)
Proficiency in English (20%) with a minimum score of:

TOEFL: 78
TOEIC: 800
IELTS: 6.0

Additional bonuses may be awarded based on international experience and proficiency in other languages.

Applicants are selected based on their application form, and take account of the applicant's academic performance, his/her attitude and progress in class, his/her motivation, the relevance of his/her career plans, extra-curricular activities, and his/her level of proficiency in English.

Application procedure

Application deadline: t.b.a
Apply here: https://apply.audencia.com

To complete the online application form, you will need to submit the following documents:

Curriculum Vitae and cover letter in English
A certified copy in English or French of your secondary school diploma; or failing that, the current year's enrolment certificate for the final year of high school studies and academic transcripts
Copy of an identity document (e.g. passport)
Photo
English test score (TOEFL, TOEIC, IELTS). NB Not required for native speakers of English.

Selected applicants will be invited for an interview via videoconference.

The purpose of the interview is to confirm information provided in the application and to assess:

Motivation to follow the programme;
extra-curricular activities;
Intellectual curiosity;
Potential and ability to adapt to a new environment;
Language proficiency in English.

Admissions contact

Office of International Admissions - Audencia
Contact form
Whatsapp +33 786 490 775

Tuition Fees and Financing

Tuition Fees

Four-year bachelor programme: €12,000 per year
Tuition fees are guaranteed for the duration of the programmes and for both schools (including membership of alumni networks


Scholarship opportunities for international students

Early application scholarship of €1,500 for applicants submitting their complete application before 1 March 2024.
An academic or sport excellence scholarship of up to 40% of the tuition fees in the first year, for applicants submitting their complete application before 1 May 2024.
Scholarship opportunities within the framework of certain international agreements, may be available for periods of international mobility within the programme.

International experience

Students are required to acquire a minimum of 15 months of international experience during the programme

All students will spend two academic semesters abroad in:


The second semester of year 2, at Ecole Centrale Casablanca, Morroco
The first semester of year 3, at Shenzen Audencia Business School, China

In addition, one of the three internships (3 months minimum) has to be undertaken abroad.

Students have the opportunity to spend as much as 24 months abroad via academic and professional experience, as follows:


| | | |
| --- | --- | --- |
| | Duration | International |
| First-year internship | 3 months | optional (at least one of the three internships abroad) |
| Semester 4 | 6 months | mandatory |
| Semester 5 | 6 months | mandatory |
| Third-year internship | 3 months | optional (at least one of the three internships abroad) |
| Final-year internship | 6 months | optional (at least one of the three internships abroad) |


Semester 4 - Ecole Centrale de Casablanca, Morocco

Semester 4 of the BBA Big Data & Management will initially take place on the Centrale offshore campus in Casablanca.

Inspiration for the Ecole Centrale de Casablanca came from a strategic partnership between Morocco and France, signed by King Mohammed VI and French President François Hollande in April 2013. Ecole Centrale Casablanca is administered by a non-profit organisation and managed by a steering committee composed of independent members, representatives from Centrale Supélec and from the relevant Moroccan ministries (Industry, Trade, Investment and Digital Economy, Economy and Finance, Higher Education and Research). Ecole Centrale Casablanca focuses on three main areas: higher education, research and executive education. In addition to the faculty team in Casablanca, visiting faculty from the Ecoles Centrale Group also teach on site.

The Casablanca site is located on a new campus in Bouskoura, close to a large eucalyptus forest. It is a quiet environment with classrooms, auditoriums, laboratories, library, student accommodation, administration offices, canteen and gymnasium.

Students will be offered accommodation in a residence located on campus.


Semester 5 - Shenzen Audencia Business School

Semester 5 of the BBA Big Data & Management will initially take place on the Shenzen campus.

Shenzhen is one of the most dynamic and innovative cities in the world, to the extent that it is now widely considered to be a Silicon Valley in the making, as evidenced by the 20% growth recorded in 2019 in the following sectors: biotechnology, internet, new energies, new materials, information technology and cultural activities.

Audencia opened a campus in Shenzhen, China in 2016. In June of the same year, the University of Shenzhen and Audencia formed a joint venture: the Shenzhen Audencia Business School (SABS). 14 permanent faculty teach on site and are part of Audencia's faculty. Four programmes are offered on this campus. In the past 2 years, it has regularly welcomed students from the Master in Management (Grande Ecole) Programme for a study semester.

NB

Extra costs associated with transport, food, accommodation, books, miscellaneous expenses and medical/repatriation insurance, etc., are at the student's expense.
For some international destinations, tuition fees at the host universities may be payable by the student.
There are mobility support schemes in place to facilitate international study semesters (admission/tuition fees and funding).

After the BBA

At the end of the programme, students can choose between entering working life or continuing their studies. Students benefit from individual careers guidance from the Careers Services at Centrale Nantes and Audencia. Face-to-face or online careers sessions, mentoring sessions with graduates, webinars, online forums, etc. help future graduates to find their path.

Pursue your studies

The opportunities for further study are numerous in France or abroad. Within Audencia and Centrale Nantes, for example, students are ideally placed to pursue:


Master EIT Manufacturing - Data Science and AI for competitive manufacturing: Learn more


Career Prospects

The BBA Big Data & Management fully prepares its students for entry into the workforce. Companies are looking to recruit graduates with cross-functional skills to meet their needs in an increasingly digital environment. Partner companies contribute to programme workshops in order to provide students with hands-on training. Here are a few examples of career paths that students can pursue after the BBA:



Take advantage of two alumni networks

CENTRALE NANTES ALUMNI HELPING OUR YOUNG GRADUATES SUCCEED

Your future career is probably not the one you imagine today. The sheer diversity of careers amongst Centrale Nantes graduates clearly demonstrates what it means to be an alumnus of Centrale Nantes, a general engineering school, with a multi-specialist focus. So how do you build your career plan, and achieve the right balance between professional and personal ambitions and values?
By getting to know yourself, interacting with others, building relationships with Centrale Nantes graduates and discovering the diversity in their positions whether they work in large or small companies, in start-ups or research centres. All of this will contribute to shaping your career plan and finding the right contacts to trigger exciting opportunities.

Learn more: https://www.centraliens-nantes.org

AUDENCIA ALUMNI: A NETWORK FOR LIFE

In joining Audencia, you are not only joining a school, you are also joining a fully-fledged network, Audencia Alumni, with over 16,000 graduates and 3,000 students from more than 100 different nationalities!
A dynamic network of exchanges and connections with its Ambassadors, who offer you a place to meet wherever you are in the world (internships, travel, expatriation), but also a network that inspires, supports and connects you on a daily basis. Audencia Alumni is an incredible accelerator of opportunities: the diversity of profiles combined with the wealth of skills attracts companies from all over the world.

Learn more: https://bachelors.audencia.com/experience-professionnelle/reseau-des-diplomes/

Meet Gaël Bonnardot, Class Patron Class of 2024

Centrale Nantes Graduate Class of 2014, CEO and founder of Datakeen

"The global rise of the internet from the 1990s onwards, and the take-up of smartphones and other connected objects in the 2010s, sparked an explosion in the amount of data produced every day. This trend has gathered further pace in the wake of the covid-19 epidemic. This data once processed, aggregated and fine-tuned is a reflection of machine and human behaviour, and from large volumes common patterns emerge and these are signals that machines can learn.

Since graduating in 2014 I have thoroughly enjoyed working with the raw material that is data. I started out in this exciting field as a data scientist at the consulting firm, Accenture. Consulting allows you to discover in a very short period of time a lot of applications for key national or international players. Building on this experience, I started my own company, Datakeen, with a partner, which designs Artificial Intelligence solutions. Our data scientists work hand-in-hand with developers, designers and DevOps to create high value-added solutions for business.

In my opinion, the BBA is an ideal training programme for getting a head start in this field, where communication between technical and business disciplines is crucial."
Why choose the BBA?








The BBA at a glance

A fully accredited 4-year bachelor's degree
Mixed cohort of French and international students
Open to applicants with a high school diploma or equivalent
Fully taught in English
15 months minimum of international experience
Location: Audencia Atlantic campus & Centrale Nantes
Next intake: every year in September

Focus on unique resources

Supercomputer

Since the end of 2015, Centrale Nantes has been responsible for one of France's most powerful regional computing centers in its category (Tier2 class), which houses the new Nautilus supercomputer installed in 2023. Giving access to unprecedented levels of precision, this state-of-the-art equipment is a real game changer which will release new potential for innovation.
Intensive numerical calculation is an indispensable tool for both research and industry: it reduces the cost of testing, facilitates optimization and promotes creativity and the search for new solutions. The means of calculation are also an indicator of the research and development of a region, or a nation.

High Performance Computing (HPC) consists of using software for acquisition, modeling or analysis on supercomputers of several thousand processors capable of executing several billion operations per second to model complex phenomena, process or characterise large volumes of data. It is also a set of servers designed to run long-term processes to massively and intensively calculate programs. These supercomputers can be seen as a large number of machines (computing servers) linked together by very high-speed networks.

Centrale Nantes is the only higher education establishment in France to have such a powerful supercomputer which is open to different users.

Learn more: Supercomputer

Centrale-Audencia-ensa incubator

The Centrale-Audencia-Ensa incubator is an entrepreneurship support programme which aims to boost the creation of innovative companies in the Pays de la Loire region. The incubator is open to students and graduates of the three establishments of the Centrale - Audenica - ensa Nantes Alliance with a mature project (solution, market, team) to develop.

The unique collaboration between three nationally and internationally recognised educational and research establishments, in the fields of engineering, management, communication, design and architecture, provides exceptional conditions for the development of incubated projects. The Centrale-Audencia-Ensa incubator is fully in tune with the dynamics of the Nantes and Loire region thanks to its strong involvement in a particularly innovative and entrepreneurial ecosystem.


Shared campus facilities

Audencia and Centrale Nantes have pooled their material and learning resources for the purposes of this programme. Students have access to all of the schools' campuses in France and abroad, to their media libraries, laboratories, company and alumni networks.

Just a two-minute walk separates the Audencia Atlantic Campus and the Centrale Nantes campus, which are located at the heart of the city's main university campus and just fifteen minutes from Nantes city centre.


Audencia

Audencia boasts 18,000 m2 of diverse and modular teaching facilities. Each classroom is equipped for different teaching methods and group work (video projector, audio speakers). The school also has mobile audiovisual and computer resources (digital camcorders, TV, DVD players, tablets). Facilities on the Audencia Atlantic Campus:


38 modular classrooms
9 lecture theatres
3 computer rooms
1 Knowledge Hub
3 Student Hubs
1 Fab Lab
1 Learning Lab

8 connected collaborative work rooms (equipped with internet and digital screens)
24 association offices (student, arts, sports etc.)
Sports and cultural facilities: gymnasium, weights room, fitness room and music room
1 web portal, Tomorrow, with remote access for students and teachers
1 collaborative platform, Blackboard, used by faculty to enhance the learning experience (additional resources, working groups, chat, forum etc.)

Centrale Nantes

Centrale Nantes houses 17 buildings on a 40-acre green campus. In addition to the standard facilities of a university campus (classrooms, media library, computer rooms, etc.), it is home to 13 research platforms, some of which are unique in France, and modern and varied sports facilities, the Centrale-Audencia-Ensa incubator and vibrant student life. Facilities on the Centrale Nantes campus:

45 classrooms
6 lecture theatres
13 computer rooms (with nearly 180 fully equipped PCs and extended opening hours)
1 media library
5 research institutes
Sports and cultural facilities: 1 gymnasium, 1 multisport/dojo hall, squash courts, 1 piano room
1 student house

Student residence - a limited number of places are available for our first-year international bachelor-level students in the Max Schmitt halls of residence on campus
1 online platform for students, Onboard, with timetables, grades, attendance management, distance learning and teaching resources,
1 Moodle platform (Hippocampus) with collaborative functionality available to faculty and students (additional resources, working groups, forum, online assessments, etc.).
Students also have access to meeting rooms / learning innovation / videoboxes equipped with video projectors, cameras, interactive whiteboards, etc., for their classes, presentation preparation, project work, etc.
1 lifelong email address and an individual digital workspace and storage space, with remote 24H access.

Virtual Tour

Explore the campus with its classrooms, research platforms, student life and sports activities: Take the virtual tour

Campus Channel Replay



Published on January 19, 2021
Updated on November 27, 2023
Contact
bachelor.admission1d04392a-b4ff-4fea-b802-075ee537f6e3@ec-nantes.fr
Download the brochure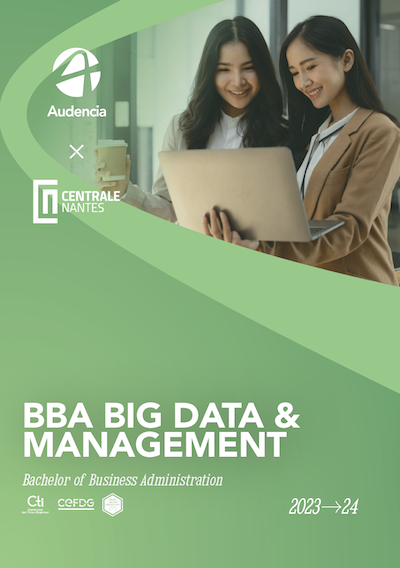 BBA News
Applications from international students

NB: Applications via Parcoursup for French students