4 new startups join the Centrale-Audencia-Ensa Incubator
Following the selection committee meeting on 8 February, 4 projects were selected by the panel comprising representatives from the three schools, entrepreneurs, investors and experts.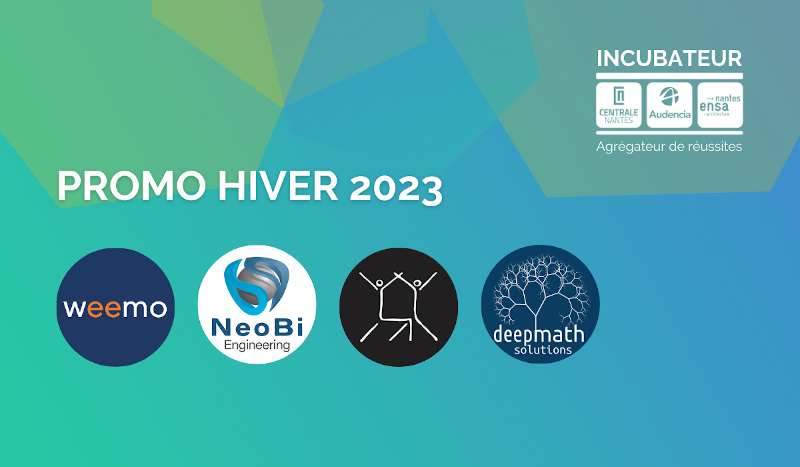 The new startups and their innovative solutions
The 4 new startups from different sectors (AI & data, Software & service, Healthtech) ensure innovation and diversity within the Winter 2023 intake.
► Deepmath - with
Liad Paskin at its helm, a PhD graduate, Centrale Nantes
(LHEEA Laboratory under the supervision of Sandrine Aubrun) - develops cutting-edge techniques in mathematical modelling and artificial intelligence to offer industry high-fidelity description and prediction of statistical processes and physical phenomena, with its first application in offshore wind energy.
► NeoBi Engineering
, a
Centrale Nantes spin-off founded by Nicolas Simon
, is an engineering and digitalisation service for the health, medical and biological sectors, focusing on three activities: support for operating strategies, software development and 3D printing of surgical tools and medical devices.
►
Weemo
's aim is to make second homes more affordable, more profitable and more inclusive. This digital service, spearheaded by
Antoine Fréour, an Audencia graduate
, helps individuals acquire a second home thanks to a personalised strategy for co-financing, rental management and tax.
► Rénovation Sociale
, a project headed up by
Brody Boudailler, an ensa Nantes graduate
, is an architectural service that supports small municipalities, landlords and individuals by facilitating socially sensitive and social rehabilitation projects.
Up to 3 years of support with tailored programmes depending on project maturity
The 4 startups began their support programme on 1 March. Rénovation Sociale, Weemo and deepmath, in the pre-incubation phase, will be able to refine their value proposition and validate their business model by testing their ideas on the market. NeoBi Engineering, already in the incubation phase, will be able to prepare its growth by working on its commercial development, its human resources and financing preparation.
The programme kicked off start with two intensive bootcamp days. Throughout the period of tailored support, the 4 innovative companies will benefit from mentoring, conferences, workshops and expertise on development and growth issues: product strategy, acquisition, finance, commercial, legal, personal development, communication, tech.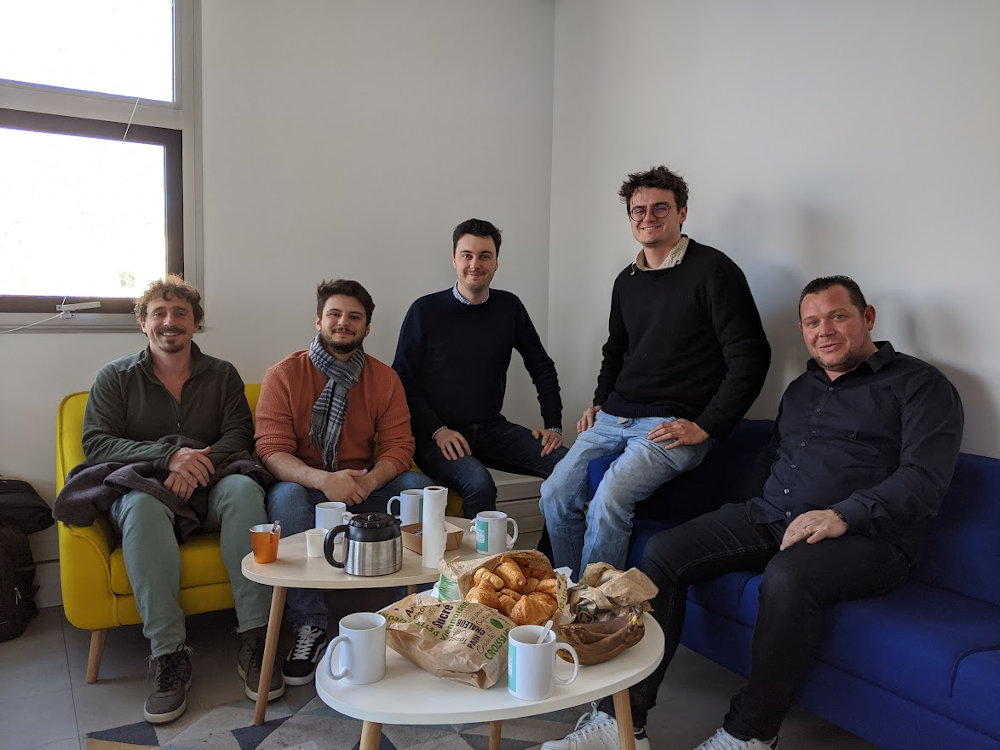 From left to right: Liad PASKIN (deepmath), Bruno TESSARO (deepmath), Antoine FREOUR (Weemo), Brody BOUDAILLER (Rénovation Sociale), Nicolas SIMON (NeoBi Engineering)
► Visit the
Centrale-Audencia-Ensa incubator website
Published on March 6, 2023
Updated on March 6, 2023