A new Erasmus Mundus Master to open at Centrale Nantes: Japan-Europe Master on Advanced Robotics
A new Erasmus Mundus Joint Master's Degree - Japan-Europe Master on Advanced RObotics (JEMARO) - is opening at Centrale Nantes. Centrale Nantes is the coordinating institution for this Master, accredited in 2019 by the European Commission for 6 years.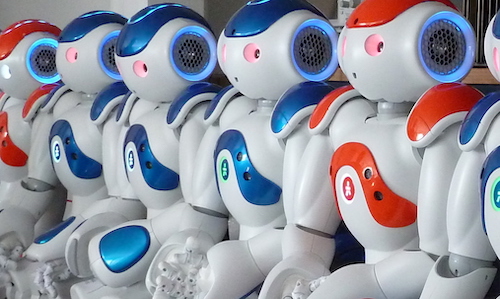 This Joint Master Degree marks the start of a new partnership model for Eramus Mundus in the form of a joint EU-Japan call. Centrale Nantes is proud to have been selected alongside Keio University, Japan, as coordinator of the JEMARO consortium to develop a highly integrated joint master programme and to offer scholarships to students in the field of advanced robotics. Students and scholar mobility within the JEMARO consortium will foster innovation and excellence between Europe and Japan.
This new Master is coordinated by Centrale Nantes, France and Keio University, Japan alongside its partners universities: University of Genoa, Italy and Warsaw University of Technology, Poland.
The JEMARO Consortium benefits from associated partners that bring extra European and industrial perspectives.
Academic associated partners: Jaume I University, Spain and Shanghai Jiao Tong University, China
Industrial associated partners: YASKAWA, Japan; Soft Servo Systems, Japan; Inc., NTT Data, Italy; Motion Lib, Inc., Japan; BA Systèmes, France; PIAP-Space, Poland; IRT Jules Verne, France
Centrale Nantes will welcome the first intake of students starting in September 2020. The Master is linked to the Master Programme in
Control and Robotics – Advanced Robotics
- and will offer attractive Erasmus Mundus scholarships.
For all the information you need on this new Master see:
http://jemaro.ec-nantes.fr

Published on September 5, 2019
Updated on May 13, 2020