AKRYVIA - Centrale Nantes start-up - winner of the I-lab 2017 competition
AKRYVIA, an innovative Nantes-based industrial start-up, incubated at Centrale Nantes, which is revolutionizing sheet metal work in the cutting machine industry, is the winner of the I-lab 2017 competition. The prizes were presented in Paris yesterday by Mrs Frédérique VIDAL, French Minister of Higher Education, Research and Innovation.
on July 7, 2017
About I-lab

This national competition to support the creation of innovative technology companies has created more than 1,800 companies since 1999. Acting as a real springboard for young talent and innovation, it successfully fulfills its role of detecting projects for the creation of innovative companies. It is the first initiating device in France, with project funding available of up to 450 000 euros/project. The Ministry of Higher Education, Research and Innovation distributes around €10 million per year in funding for the innovation programme of the winning projects
.


Find out more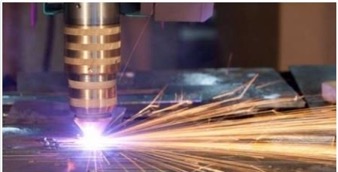 Frédéric Camy-Peyret, Founder and President of AKRIVIA said:

We are honored and proud to receive this award, which is wonderful recognition of the depth and potential of the technology developed by AKRYVIA. This grant will allow us to start the industrial development phase in the best conditions. Ultimately, the ambition is to create a new world-class technological player, with an industrial base in France.

Arnaud Poitou, Director of Centrale Nantes welcome(s) the success of a graduate and the strong technological partnership that has been built on mutual trust with this startup. The policy of supporting entrepreneurship adopted several years ago at Centrale Nantes is proving very successful today. "

About AKRYVIA
AKRYVIA is an industrial start-up founded in 2015 by Frédéric Camy-Peyret and two partners from industry and entrepreneurship. It is developing an innovative and patented process for the industrial cutting of metals, combining the accuracy of a laser with the benefits of productivity and cost of plasma. AKRYVIA is located in the laboratories of Centrale Nantes and is supported by the Atlanpole regional incubator, the Centrale-Audencia-ensa Nantes incubator and the Pays de la Loire region. AKRYVIA is also a member of the EMC2 competitiveness cluster, in the Jules Verne Manufacturing Valley.



Photo: AKRYVIA offers laser-accuracy with plasma strength in metal cutting


Published on July 17, 2017

Updated on October 25, 2017