BBA Webinar for high school students in Indonesia
Are you a high school student in Indonesia interested in pursuing a bachelor programme combining engineering and management in France? Join us online for a Campus France Indonesia webinar presenting the BBA Big Data and Management at Centrale Nantes and Audencia on Thursday 14 April.
On April 14, 2022 from 15:00 To 16:00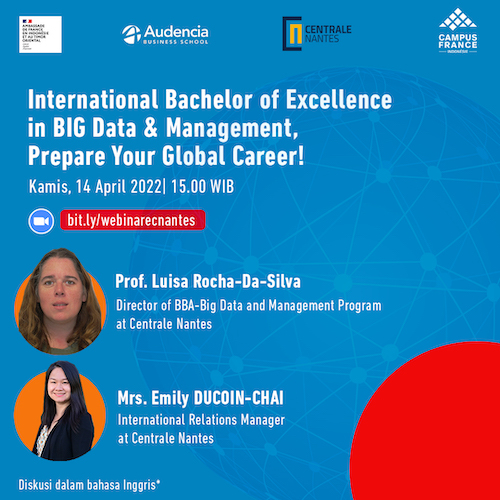 Thursday 14 April 2022 | 3.00 pm Jakarta time (10 am CET)
Professor Luisa Silva, Co-Director of the BBA at Centrale Nantes and Emily Ducoin Chai of the International Relations Department will introduce you to the BBA Big Data & Management and answer all your questions.
This four-year bachelor programme, which is
jointly taught in English
by Centrale Nantes and Audencia Business School,
combines engineering and management in the field of data collection, analysis and management.
BBA Big Data & Management at a glance
Four years of blended learning - at the conclusion of the demanding four-year programme, graduates will have acquired a unique blend of advanced technical skills (advanced computing, data analysis, cloud computing) and cross-functional management expertise (finance, management, marketing and strategy).
International exposure - Programme fully taught in English to a mixed cohort of French and international students in a multicultural learning environment. Students will spend a minimum of 15 months abroad, including two semesters taught at a partner university or on the respective offshore campuses.
Meeting market demand in new professions - the programme sets out to address the growing market demand, in France and internationally, for dual managerial and technical expertise in the collection, processing and analysis of data to improve company performance. Company involvement in the curriculum is thus key to ensuring that it is fully in line with the market's expectations.
Learn more about the BBA Big Data and Management
Published on April 13, 2022
Updated on April 13, 2022
Contact
international

0db532ab-11c2-4fbb-9b8f-703ff04116c4

@ec-nantes.fr