Additive Manufacturing

,

Erasmus Mundus

,
Centrale Nantes taking part in SAM: a new Erasmus + project on Additive Manufacturing skills
Centrale Nantes is a consortium member of SAM, an Erasmus + funded sector skills alliance programme which seeks to establish a platform for Additive Manufacturing skills at European, national and regional levels. The project commenced in January 2019 and involves the IS3P Research Group, LS2N Laboratory.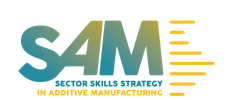 A new flagship project on Additive Manufacturing skills aims to maintain Europe leading position in industrial competitiveness
Technology is evolving at a much faster pace than the development of the workers' skills to use it and most of the current initiatives to redress the balance focus on existing needs and shortages. There lacks a strategical approach to skills in Additive Manufacturing since current methodology to meet skills needs is based on reaction instead of prediction and planning.

To meet this challenge the SAM (Sector Skills Strategy in Additive Manufacturing) project started in January 2019. The initiative will tackle the current European need for developing an effective system to identify and anticipate the right skills for the Additive Manufacturing (AM) sector demands in response to the increasing labour market needs, thus, contributing for the smart, sustainable and inclusive growth of the AM sector.
Project Objectives
Build a sector skills strategy in AM;
Assess and anticipate skills (gaps and shortages) in AM;
Support with data the AM European Qualification System and foster wideness of its scope;
(Re)-design professional profiles according to industry requirements;
Develop specific relevant qualifications to be delivered for the AM Sector;
Increase the attractiveness of the sector to young people, whilst promoting gender balance;
Strengthen education-research-industry partnerships and encourage creativity "in companies and relevant educational and scientific institutions";
Track students, trainees and job seekers and promote match making between job offer and search.

Project Partners
The SAM project consortium is composed of 16 partners, including Centrale Nantes' IS3P (Systems Engineering: Product, Performance, Perception) Research group, and is coordinated by EWF (European Federation for Welding, Joining and Cutting). It encompasses industrial representatives from the AM sector, vocational and higher education institutions, and umbrella organisations. This ambitious project has a duration of 48 months and ends on 31st December 2022.



Published on February 15, 2019
Updated on November 24, 2020