Centrale Nantes working with STELIA Aerospace on a world first: 3D printing of self-reinforced metallic fuselage panels
An aircraft has several panels that form its fuselage, its empennages and wing sections. These panels are reinforced by stiffeners, which are usually riveted or even welded to the panels. A demonstrator for metallic fuselage panels with stiffeners directly built into their surface by additive manufacturing was produced on Centrale Nantes' rapid manufacturing research platform.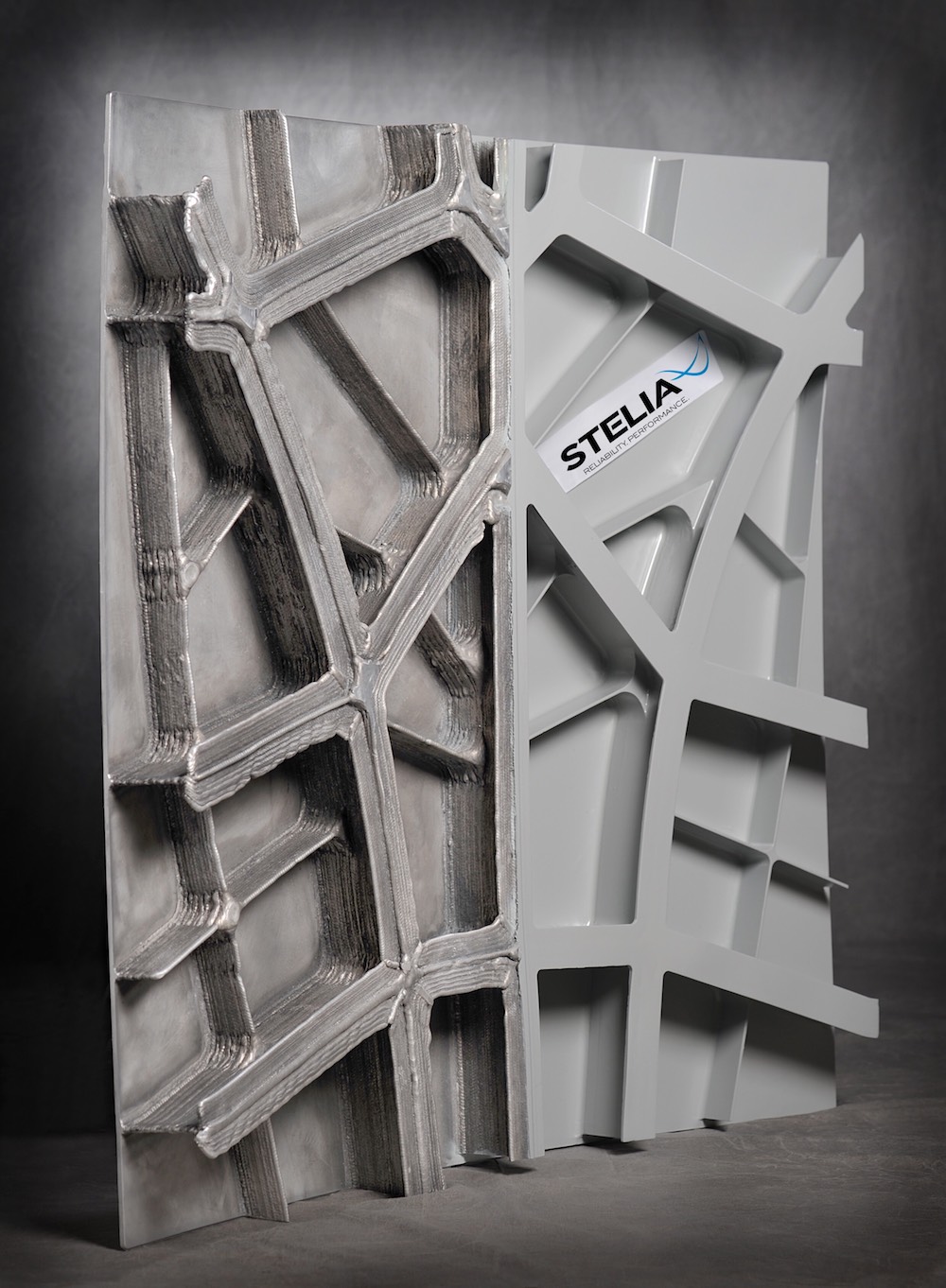 This demonstrator was produced as part of Stelia Aerospace's collaborative R&T DEFACTO project (DEveloppement de la Fabrication Additive pour Composant Topologique), in partnership with Constellium and CT Ingénierie. France's Directorate General for Civil Aviation financed half of project, with the balance funded by the partners.
The 1m² panel was produced using the
additive manufacturing robotic cell
at Centrale Nantes, through the deposit of aluminium wire melted by electric arc. It represents a new disruptive design for panel stiffeners.
This new large-scale 3D printing technology makes it possible today to consider producing such concepts in the future, thus freeing production from the complex constraints inherent in the assembly of stiffeners.
Jean-Yves Hascoët, professor and head of the Rapid Manufacturing Platform at Centrale Nantes in the
GeM laboratory
(UMR CNRS 6183), is an international expert in additive manufacturing, a disruptive technology targeting new approaches to production, whereby material is added by deposit and not subtracted by machining.
He explained that "
additive manufacturing offers unlimited production possibilities: less material used, the integration of additional functions, the ability to reinforce assembled parts with complex geometry. It allows for new designs, weight gains, better parts reliability and lower manufacturing costs
."
Cédric Gautier, CEO of Stelia Aerospace: "
Through its R&T department, and thanks to its partners, Stelia Aerospace is thus preparing the future of aeronautics, with a view to developing ever more innovative technologies that will directly impact our core business: aero structures
."
Published on February 21, 2018
Updated on November 24, 2020