First two PhDs completed - EDYCEM / Centrale Nantes Chair
The first two PhD theses stemming from the EDYCEM - Centrale Nantes Chair on 'Innovative Concrete for new Applications' were presented on 19th October.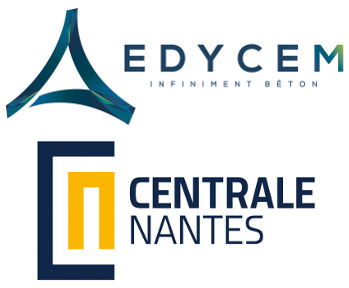 With Reda JAAFRI and Siyimane MOHAINE's PhDs, the EDYCEM / Centrale Nantes Research Chair has passed an important milestone in its progress.
Reda Jaafri's PhD work focused on the internal curing of cementitious materials, with the aim of describing the mechanisms of action of the materials used and the impacts on their behavior in the long term. The holder of two patents on self-compacting screed mortar and self-compacting concrete, EDYCEM is building on the work carried out in this thesis to understand the functioning of the various constituents of its formulas and thus gain in performance and product quality for its customers.
As for Siyimane Mohaine, his PhD focused on the development and mechanical behaviour of structural insulating concrete and improvement in thermal properties for innovative construction solutions. He studied the possibility of incorporating a raw material, which has since led to a patent application by EDYCEM, increasing the insulating power of its concrete. The results demonstrate that their incorporation into a cement matrix leads to a significant decrease in conductivity without altering the mechanical properties of the material.
The results of this academic research allow us to implement measured and qualitative applications for the benefit of our clients. Our joint work in this research chair with Centrale Nantes is fully in line with our strategy of innovation and differentiation. It represents real added value for our company. Philippe Queneau, CEO, EDYCEM.

After their PhDs: Reda JAAFRI joined the chair as a research engineer and Siyimane MOHAINE is now an R&D engineer at CERIB.
Published on December 13, 2018
Updated on January 21, 2020