ICOE and SEANERGY team up in 2018 to hold the world's biggest event in Marine Energies in Cherbourg, Normandy – France, from 12 to 14 June.
From June 12, 2018 to June 14, 2018 All day
From June 12, 2018 to June 14, 2018 All day
From June 12, 2018 to June 14, 2018 All day
From June 12, 2018 to June 14, 2018 All day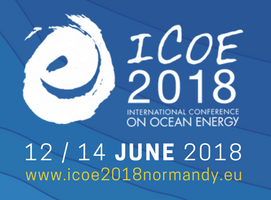 Held every two years since 2006, the International Conference on Ocean Energy (ICOE) brings together 600 to 900 experts, more than 100 expert speakers and nearly a hundred exhibitors. Representatives from 25 countries attended in 2016. This conference aims to gather all the stakeholders in the marine energy sector (ocean thermal energies, wave, tidal, osmotic) to share their latest experiences in research and technological applications. The conference is supported by the International Energy Agency (IEA) through its technology cooperation programme (Ocean Energy Systems - OES).
In 2016, Seanergy - a major event for Marine Renewable Energy (MRE) in Europe - brought together 3,500 experts and professionals, 220 exhibitors from 15 different countries, and organized more than 800 business meetings. 40 expert speakers shared their latest observations, new developments and innovations during a series of high-level conferences.
The complementary nature of the two events makes it possible to combine scientific content and business opportunities, in order to:
Disseminate results and technical applications resulting from MRE research
Create business opportunities for companies in the MRE sector
Highlight the economic and societal dimension of MRE
Encourage young people to move towards the MRE sector
Centrale Nantes will be present on the Pays de la Loire stand. Izan CROM, SEM-REV research engineer will also be speaking at the session entitled: "Operating in the Cruel Sea: Installing, Inspecting & Maintaining".
Published on May 30, 2018
Updated on March 19, 2021