The Floatgen floating platform was successfully launched
The construction phase of the concrete floating foundation designed by Ideol and built by Bouygues Travaux Publics has taken a major step forward with its floatation in the Louis Joubert Lock at Saint-Nazaire.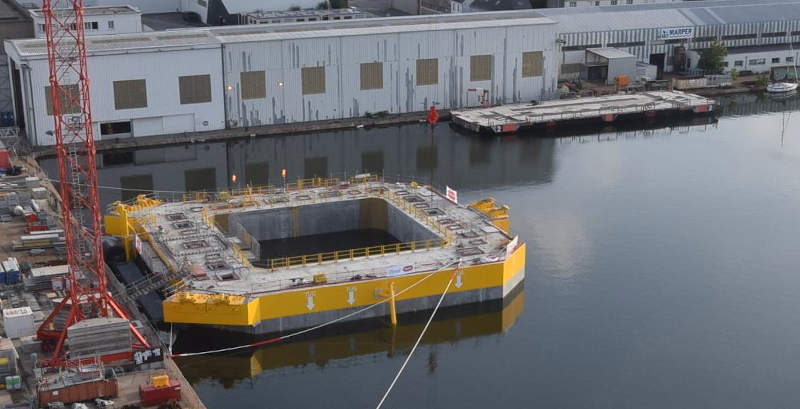 After several months of construction in the Penhoët basin (Saint-Nazaire), the floating foundation that will equip the first offshore wind turbine in France has been launched. The three assembled barges on which the floating foundation was built were towed to the Joubert lock, a dry-dock marking the entrance to the port of Saint-Nazaire. After the barges were immerged, the concrete hull was floated with perfect control. It was then towed towards the Quai des Charbonniers to await the addition of the transition piece (a steel part at the interface between the floating foundation and the mast) and then the wind turbine.
This key step illustrates an advantage of floating wind turbines and the Floatgen technology: construction is carried out in a sheltered port environment, as is the case in Saint-Nazaire. Risk and cost control are therefore more effective than at sea.
The final tow to Centrale Nantes' offshore installation will take place in the autumn.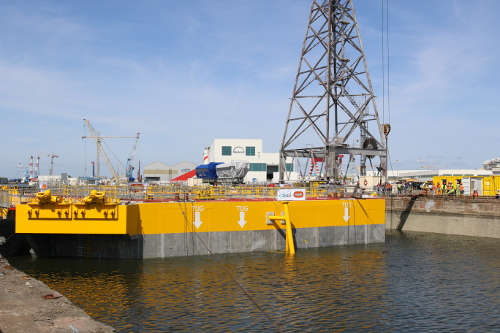 This new operational success follows the installation a month ago of the anchorage system on the SEM-REV offshore test site, which will host Floatgen, 22 kilometers off the coast from Le Croisic.
Published on September 7, 2017
Updated on March 19, 2021