Research

,

SARAH project

,

Ocean tank

,
The SARAH research project at CENTRALE NANTES on emergency ditching
The SARAH research project, funded by the European Union, focuses on emergency ditching for helicopters and airplanes.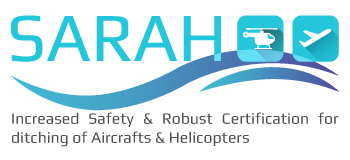 The project is being undertaken in close collaboration between manufacturers (Airbus, Dassault), design offices and academic partners.
The challenges associated with emergency ditching
Helicopters are used for missions over bodies of water: transport to oil rigs, search and rescue at sea, tourism etc.
To ensure passenger and crew safety, helicopters must be equipped with flotation systems in case of emergency requiring them to ditch urgently. Pilots have controls to inflate the floats in preparation for controlled landing on water. Indeed, even in the event of engine failure, the autorotation maneuver can cushion the fall and reduce speeds at the time of impact.
New development or design changes provide manufacturers with the opportunity to improve technology and this equipment on helicopters.
Such opportunities for improvement are only possible through validation of the simulation tools. This is done by comparison with reality. Full-scale tests are difficult to carry out and very expensive. Landings can be reproduced by recreating them in the form of tests with a scale model helicopter.
Centrale Nantes' involvement in the SARAH project
Centrale Nantes, through its LHEEA laboratory, is involved in several aspects: modelling and simulation have already been carried out within the laboratory and ocean tank tests are currently under preparation.
Visit the project website:
http://sarah-project.eu
The research leading to these results has received funding from the European Union's Horizon 2020 research and innovation programme under grant agreement No 724139.
Published on November 19, 2018
Updated on February 9, 2021