Webinar: Master's Programme - Control and Robotics - Signal and Image Processing
Join us online at 2.00 pm on Thursday 1 December (UTC+1) for all you need to know about the Master Control and Robotics, Signal and Image Processing (CORO SIP).
On December 1, 2022 from 14:00 To 15:00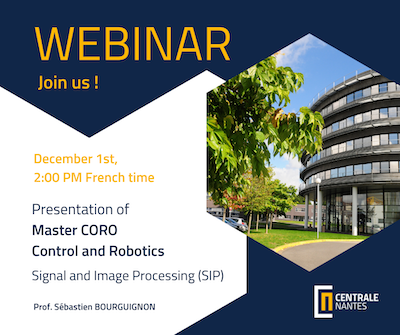 Looking for a Master's programme in Control and Robotics? Join us for a webinar at 2.00 pm (UTC+1) on Thursday 1 December.

Prof. Bourguignon, Signal and Image Processing programme supervisor, will present the programme content and career opportunities and answer your questions.

Maire-Pierre Pechoutre and Sophie Gaillard of the International Relations Department will also be on hand to answer your questions about studying in France (visas, accommodation, student life, etc).

NB After registration you will receive an email to confirm your attendance and the link to connect on the day.

Signal and Image Processing
Fully accredited by the French Ministry of Higher Education and Research, the language of instruction is English across the two-year programme.

The Signal and Image Processing programme address the theory and the practice of advanced data analysis techniques, from computational statistics, applied mathematics, scientific computing and numerical imaging, to their practical implementation in several fields such as biomedical engineering, imaging science, audio processing and information technology. The key feature of the programme is the design of mathematical solutions, for signal and image processing problems, accounting for the physical specificities of this data and adapting the numerical implementation of these solutions to the application context, the data amount and the available computational resources.
Published on November 25, 2022
Updated on November 25, 2022