Floatgen produces its first KWs
The Floatgen wind turbine, currently docked in the port of Saint-Nazaire before being towed offshore, produced its first electrons on Thursday 14 December.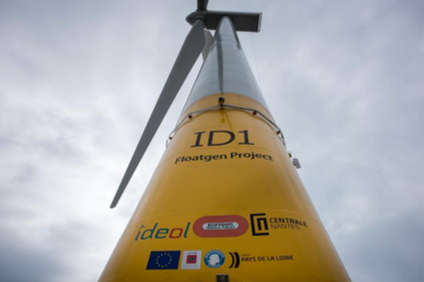 In the days that followed its inauguration and its christening on the Quai des Darses, in the port of Saint-Nazaire, the Floatgen wind turbine underwent a battery of tests. This intensive programme included the "over-speed" test - the purpose of which was to check turbine shut down in an emergency situation. This test served to confirm that the wind turbine and its foundation are functioning correctly together.
Other tests were also conducted, the most recent being the electrical production test. On Thursday 14 December, the Floatgen wind turbine produced several hundred KWs. With this first production, the performance of the control configuration could be checked and the safety of the turbine confirmed.
An illustration of the many benefits of the Ideol technology, which allows pre-commissioning of the wind turbine in a protected dock environment, reducing the work to be carried out offshore as well as the associated risks and costs.
In the next stage of the project, the wind turbine will be towed out to the
Centrale Nantes SEM-REV offshore site
and then connected to the electricity grid.
Published on December 21, 2017
Updated on March 19, 2021