FWP Atlantic Forum: an immersive experience at the heart of the floating wind energy sector
The FWP (Floating Wind Power) Atlantic Forum, an international event dedicated to the industrial development of floating wind energy, will take place from 2 to 4 October 2017 in Saint-Nazaire and Lorient. The FWP Atlantic Forum is a professional event by and for industry, organized by the Pays de la Loire and Brittany Regions, both hubs for marine renewable energies (MREs).
From October 2, 2017 to October 4, 2017 All day
From October 2, 2017 to October 4, 2017 All day
From October 2, 2017 to October 4, 2017 All day
From October 2, 2017 to October 4, 2017 All day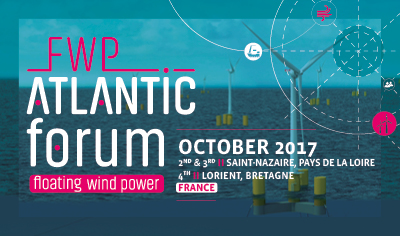 The FWP Atlantic Forum is being held just as the
Floatgen
floating wind turbine is about to installed off the coast from Le Croisic on the Centrale Nantes
SEM-REV
test site. This second edition will take the form of an immersive experience in the floating wind energy sector, with concrete feedback and direct involvement with the field.
The cities of Saint-Nazaire - which is home to numerous industrial and port projects - and Lorient - near the future Groix-Belle-Ile pilot farm - will play host to this year's forum which promises exchanges as fruitful as those of the first edition, around a programme featuring:
Monday 2 October: Technical Workshops
On-site technical and interactive workshops to enable market participants to establish contacts and exchange ideas with experts on the technical challenges and technological barriers to be lifted on floating wind turbines, with: GE Renewable Energy "Operation and Maintenance "; STX Europe Offshore Energy "Electric substation and connection"; SEM-REV Floatgen (Idéol, Bouygues TP, Centrale Nantes) "SEMREV test site and Floatgen demonstrator".

Tuesday 3 October: Plenary conferences
Meetings on floating wind power in France and around the world, in order to address financing issues, port infrastructure, cost reduction and the development of pilot farm projects, with the participation of industry experts on innovative and complementary formats: plenary conferences, flash pitches, project reviews, B2B meetings, organized with the Enterprise Europe Network.


Wednesday 4 October in Lorient: Technical visits
Technical visits around the port, companies and the floating pilot project "Floating wind turbines at Groix and Belle-Ile" managed by Eolfi, for 2020.




Published on September 6, 2017
Updated on October 3, 2017