Mazars Partner Day: 7 March
Meet our partner Mazars, a leading player in auditing, consulting and accounting, tax and legal services, on 7 March, in the afternoon. A great opportunity to learn more about this sector.
On March 7, 2018 from 13:30 To 18:00
On March 7, 2018 from 13:30 To 18:00

Programme
1.30pm to 2pm: presentation of the Careers/Company Team and the event
// ATTENDANCE MANDATORY - (attendance record)
2pm to 4pm: Two 2-hour workshops
// NON MANDATORY - sign-up to attend, 30 places per workshop:
Find out about MAZARS and career opportunities: discover the difference between auditing and consulting and perhaps find an internship
MAZARS training for associations: for those newly elected to or taking over a student association, come along for training in cashflow management and / or project management.
4pm to 5pm: Coffee and informal discussion
// ONLY for students who attended a workshop.
NB: Groups E, F & L - MAZARS is aware of your lab classes. Feel free to sign up if you wish to do so - you may leave the lab class early to attend.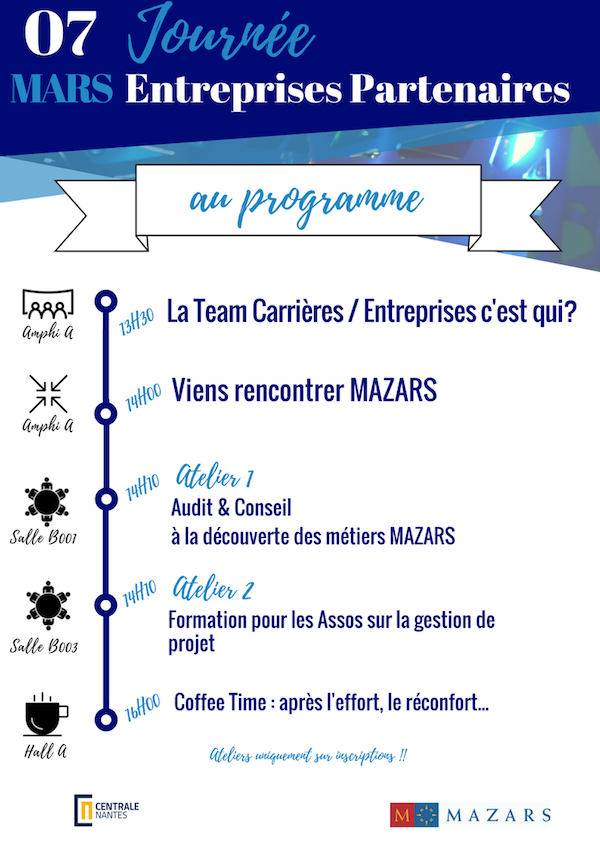 Published on February 27, 2018
Updated on February 27, 2018