BBA Big Data & Management: courses at Centrale Casablanca coming to an end for our 2nd year students
The study semester at Centrale Casablanca is drawing to a close for our 2nd-year BBA Big Data & Management students. This four-year Bachelor's programme, co-created by Centrale Nantes and Audencia, combines engineering and management in the field of data collection, analysis and management.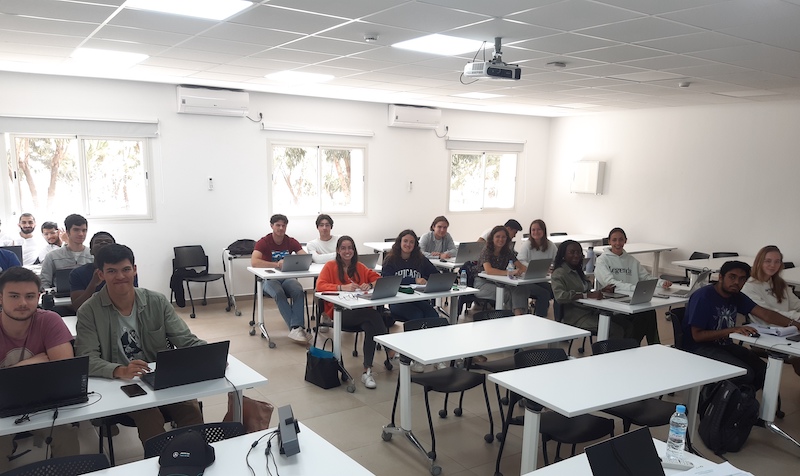 Our year 2 BBA Big Data & Management students are coming to the end of their semester of Advanced Engineering courses at Centrale Casablanca.
This experience is part of the 15 months of international study during the programme, including a third-year semester in Shenzen, China or at one of Audencia's partner universities and a minimum three-month internship abroad.
Hear what Pyrahn has to say:
Pyrahn - a 2nd year student - talks about his semester at Centrale Casablanca and his experience in Morocco (in French)
Course overview
Pierre-Emmanuel Guérin, Head of the Supercomputing facility at Centrale Nantes, led one of the courses on the Casablanca campus:
I had the pleasure of teaching information systems security to 2nd year BBA Big Data and Management students at Centrale Casablanca. With the help of practical work, they were able to measure the risks and challenges associated with the use of information systems managing the data for which they may later be responsible. This awareness begins with the use they make of their personal data, before applying it in a professional context.

A new destination in September
The students will start the next academic year with another semester abroad. They'll be off for their Advanced Business courses to South Africa (TSiBA), Germany (WFI Ingolstadt School of Management, Universität Regensburg), Belgium (UFSIA Universiteit Antwerpen), India (XIME, MDI Gurgaon), and Poland (Lodz University of Technology).

BBA Big Data & Management at a glance
Four years of blended learning - at the conclusion of the demanding four-year programme, graduates will have acquired a unique blend of advanced technical skills (advanced computing, data analysis, cloud computing) and cross-functional management expertise (finance, management, marketing and strategy).
International exposure - Programme fully taught in English to a mixed cohort of French and international students in a multicultural learning environment. Students will spend a minimum of 15 months abroad, including two semesters taught at a partner university or on the respective offshore campuses.
Meeting market demand in new professions - the programme sets out to address the growing market demand, in France and internationally, for dual managerial and technical expertise in the collection, processing and analysis of data to improve company performance. Company involvement in the curriculum is thus key to ensuring that it is fully in line with the market's expectations.
► Learn more about the BBA Big Data & Management
Published on June 6, 2023
Updated on June 12, 2023