Centrale Nantes celebrates the arrival of a high-speed, high-resolution camera
Centrale Nantes today celebrated the arrival of a high-speed, high-resolution camera at the Research Institute in Civil and Mechanical Engineering. Only a handful of such devices exist in the world today.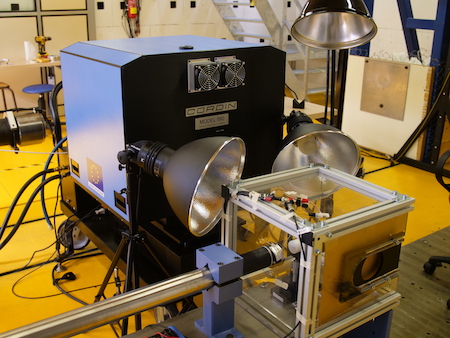 On 1 October, in the presence of Stéphanie Houel, Vice-President of Higher Education, Research and Innovation on the Regional Council of the Pays de la Loire, and Véronique Stephan, Director of lnnovation, Research and Higher Education at Nantes Métropole, Centrale Nantes's
Dynamic and Static Test Centre
(CRED) officially celebrated the arrival within its walls of an exceptional camera. Co-financed by the city of Nantes, the Pays de la Loire region and the European Regional Development Fund (ERDF), this camera is unique in France, indeed in Europe, in an academic setting.
The technical characteristics of the camera are impressive: 4 million images/second and a resolution of 8 million pixels. By way of comparison, at equivalent speed, ultra-fast cameras offer a resolution of around 40,000 pixels.
Julien RÉTHORÉ
,
(pictured below)
senior CNRS researcher, of the
Research Institute in Civil and Mechanical Engineering
(GEM) at Centrale Nantes, initiated the acquisition of this ultra-fast camera. He gave the audience present a demonstration of the camera's remarkable capabilities. Julien Réthoré studies the formation of cracks in materials to improve the durability of structures. He joined the GEM team in 2016 via the regional Connect Talent mechanism, which was behind the financing for the camera.

The applications of this exceptional camera:

By way of illustration, it is possible today via additive manufacturing - better known as 3D printing – to produce parts with complex geometry, but also so-called architectured materials. According to Julien Réthoré's calculations, these materials should be able to "stop" the cracks produced by a shock. The camera offers the opportunity to observe the behaviour of these materials when the shock wave propagates through their architecture at several kilometres per second, to validate models and to improve the design to make them even more efficient.
One can easily imagine the interest and applications of such a discovery for the building (earthquake resistance for example) and transport sectors (e.g. shock absorbers).
Published on October 3, 2019
Updated on February 17, 2021