Additive Manufacturing

,

Research

,
Additive manufacturing of a propeller: a world first for the Joint Laboratory of Marine Technology
Almost 3 years of R&D work within the Joint Laboratory of Marine Technology went into the development of the metal 3D printing process by which this propeller was produced.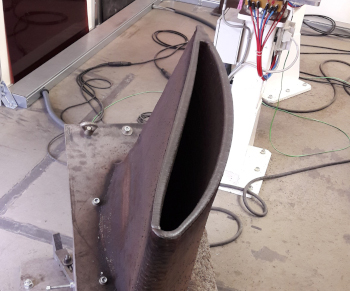 With its 2.5-metre span, and five blades each weighing in at 200 kg, this propeller is a real technological exploit.
A major project led by Centrale Nantes and Naval Group
Today marks a world first. It is the largest thruster ever to have been produced by additive metal manufacturing, and the first propeller, using this technology, to be on board a military ship and manufactured for use beyond sea trials
- Emmanuel Chol, Director of the Nantes-Indret site,
Naval Group
This new technology will considerably reduce technical constraints and pave the way for new manufacturing solutions for complex geometrical components. It will also greatly reduce production times. Now mounted on a tripartite minehunter, the propeller will accompany the ship in all of its operational missions.
Centrale Nantes is cementing its presence in the industrial landscape through this project. The association of Centrale Nantes' academic skills and research and innovation capabilities with Naval Group's industrial skills is having a positive impact on development in the naval industry.
A new development phase to rethink the design of other parts so that they benefit from the gains of additive manufacturing will begin shortly.
Joint Laboratory of Marine Technology
The Joint Laboratory of Marine Technology was created in 2016 to pool the academic and industrial expertise of Centrale Nantes, the University of Nantes and Naval Group in order to generate qualified innovation for the industrial applications of Naval Group in military shipbuilding.
Published on January 13, 2021
Updated on January 14, 2021