Meet our researchers at Nantes Digital Week 2023
The 10th edition of Nantes Digital Week - a digital festival open to all - will take place from 14 to 24 September 2023. Several Centrale Nantes researchers will be taking part.
On September 19, 2023 All day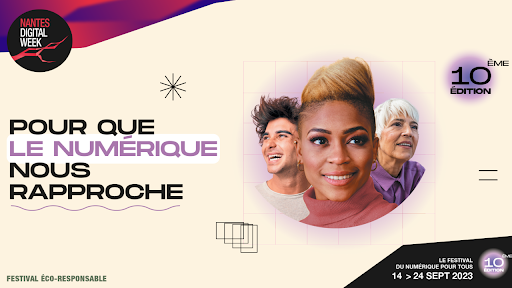 First held in 2014, Nantes Digital Week is a festival focusing on digital culture, that brings together all the regional players. Conferences, exhibitions, visits, round tables... held over the course of 10 days, with more than 100 events organised for general public and those in the industry.
Three Centrale Nantes researchers will present their work during the festival.
NB Events are in French
5th edition of the day on Culture and Digital Heritage in Nantes on the theme of "Heritage and Space
Tuesday 19 September from 9:30 a.m. to 12 p.m. at Nantes Université's Halle 6 Ouest (42 Rue la Tour d'Auvergne - 44200 Nantes)
Building on the success of the first 4 editions of Nantes Digital Week since 2019, which have already brought together some 250 academic, research, industrial, institutional and public players, we have committed to meeting again each year. This event has now become a must for professionals, academics and the general public to come together to keep abreast of the latest developments, exchange ideas and generate new projects.
The event is organized by the
LS2N
laboratory (Digital Cultures cross-disciplinary theme), in partnership with the Centre François Viète laboratory. The collaboration between these two laboratories for over 15 years on the theme of digital heritage has made them a key player regionally and nationally, demonstrating that interdisciplinarity is possible. The challenge of this day will be to address, through cross-disciplinary, multi-field and therefore truly interdisciplinary approaches, the use digital technology as a unifying means of initiatives to capture, structure and disseminate our knowledge.
With the participation of Florent Laroche, Centrale Nantes.
►
Learn more and register
DELPHI Day - When healthcare data meets algorithms
Tuesday 19 September from 9:30 am to 6 pm at the Cité des congrés ( 5 rue de Valmy - 44000 Nantes)
This unique event brings together nine renowned experts in artificial intelligence and healthcare, from Nantes, Canada and the USA. They'll be sharing their knowledge and perspectives at individual conferences, and the two round tables will be an opportunity to ask questions and exchange views with the experts.
DELPHI Day is specially designed for scientists and healthcare professionals who want to stay abreast of the latest advances in artificial intelligence for healthcare, such as:
precision medicine and medical decision support tools
automatic natural language processing of medical documents
current and future legislation on artificial intelligence models in digital medical devices for professional use
automatic processing of medical imaging
strategies for adding value to healthcare data in Europe and Canada.
With the participation of Prof. Diana Mateus, Centrale Nantes, LS2N and Mira Rizkallah, Senior Lecturer, Centrale Nantes, LS2N
Event organized by Isite NExT's
DELPHI
cluster in collaboration with Salon de la Data et de l'AI.
►
Learn more and register
►
See the full programme for Nantes Digital Week
Published on September 13, 2023
Updated on September 13, 2023