Centrale Nantes students Léa Guipouy and Mathieu Robazza win 5th prize at the USAIRE Student Awards
On 26 November 2021, Safran group CEO Olivier Andriès presented Léa Guipouy and Mathieu Robazza with 5th prize in the USAIRE Student Awards for their vision on the future of aviation.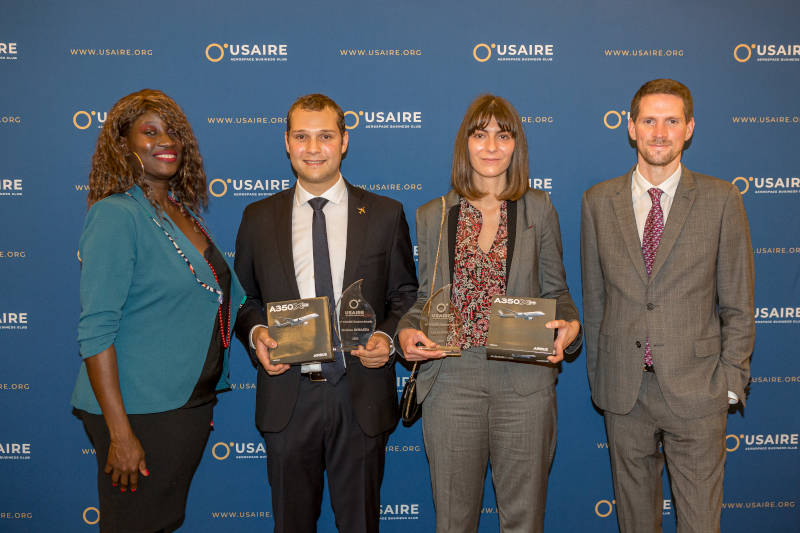 USAIRE is an Aerospace Business Club comprising over 170 members, who are representatives and executives from the civil and defence industry and government representatives. Through various events throughout the year, the association brings its members together to provide meeting opportunities and a friendly setting for high-level discussions on space and aviation issues.
Each year a competition is co-organised with ORAJe (Organisation des Rencontres Aéronautiques de la Jeunesse Européenne) for students on a theme related to current events: the USAIRE Student Awards.
What aviation for tomorrow's world?
Students were asked to write an essay on this theme, either individually or in pairs.
More than 100 entries were received from 133 students from 55 schools and universities in 15 different countries.
Of the 15 entries selected by the panel, Centrale Nantes students Léa Guipouy and Mathieu Robazza were awarded 5th prize for their work on 'Transforming aviation: a committed shift towards the challenges of tomorrow'.
Léa Guipouy is a double degree student at Audencia/Centrale Nantes following a specialisation in Industrial Engineering at Centrale Nantes, and a Corporate Finance and Audit/Control at Audencia. As for Mathieu Robazza, after two years at Centrale Nantes (Aeronautics in the second year), he did a third year at CentraleSupélec (as part of a mobility programme within the Ecoles Centrale group), specialising in Aeronautics, Space and Transport. At the same time, he completed a Master 2 research course at CentraleSupélec (Université Paris-Saclay) in Aeronautics and Space: Mechanics, Automation, Energy.
Congratulations to them both!
►
Download their essay
►
Learn more about the USAIRE Student Awards
photo © Sébastien Mathé
Published on January 27, 2022
Updated on January 27, 2022