TedX Centrale Nantes: tickets now on sale
The next TEDx event at Centrale Nantes will be held on 3rd December. This year's theme: "You may say I'm a dreamer". Click on the link below to get your tickets!

"Ideas Worth Spreading"
Six fascinating conferences will be held on Saturday 6th December on the theme "
You may say I'm a dreamer
", followed by a dinner.
>>> https://www.billetweb.fr/tedx-centrale-nantes2#description
The six speakers will show that small and big ideas can light up your world.
>
Karthik Narayan
, MIT researcher, will talk about "
Artificial intelligence and its relations with humans
".
> Business consultant,
Antoine Mourey
will ask the question: "
Et si le charisme était un spray?
(What if charisma came in a spray?)
>
Michel Comminges
deals with "
L'émerveillement, un élixir de jeunesse
" (Wonder, an elixir of youth)
>
Jean Réveillon
, ex-director of France 2 will talk about "
La réussite
" (Success)
>
Francisco Chinesta
, professor and researcher at Centrale Nantes Professor, one of the world's leading researchers in modelling and simulation, will present: "
Data-based engineering science and technology: shaping the 4th industrial revolution
".
>
Paul Bouzid
, Centrale Nantes student and winner of the TedX Tremplin competition, will give a talk entitled "
Une journée dans la jungle
" (a day in the jungle)
Come along and see for yourself!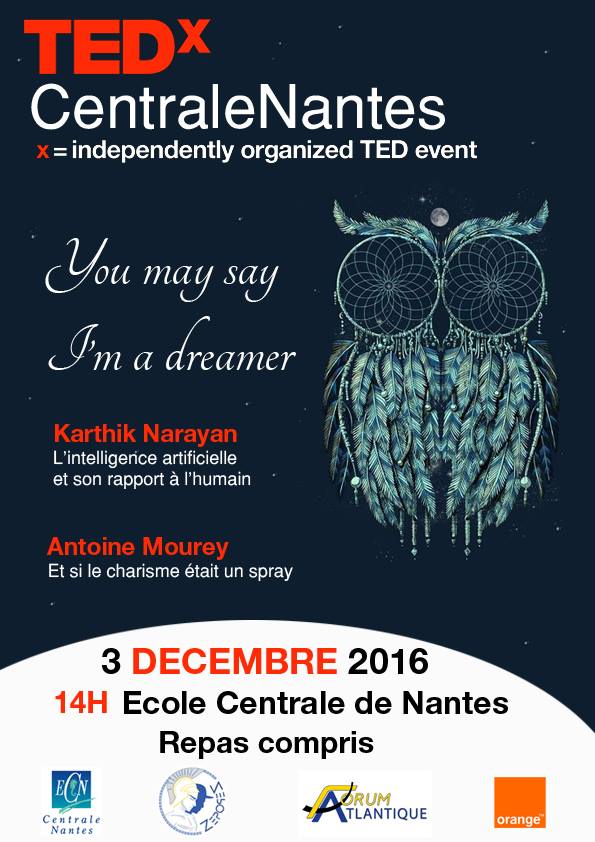 Published on November 24, 2016
Updated on March 21, 2017