SCAN 2018: The 8th Seminar on Digital Architectural Design
Organized by the Urban Architecture Nantes Research Centre (AAU) under the aegis of ARCAN*, the 8th edition of SCAN'18* will take place on our partner Ensa Nantes's premises on 25 and 26 October 2018. On the programme: immersion-emersion and its contributions to the design of architectural and urban projects. You can submit your articles or posters up until January 15th.


From October 24, 2018 to October 26, 2018 All day
From October 24, 2018 to October 26, 2018 All day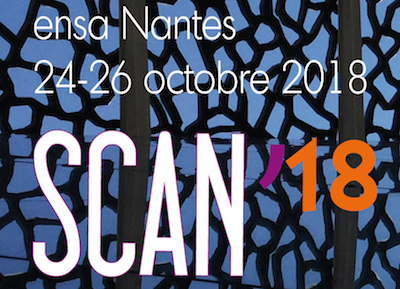 To make this conference a highlight of our scientific community, we invite you to explore the six topics of the call for papers on:
scan2018.sciencesconf.org
Immersion/emersion in virtual, augmented and mixed environments for architectural design
Immersion/emersion in/by geometric and parametric models for architecture
Immersion/emersion – pedagogical and methodological aspects
Immersion/emersion of atmospheres in the digital world
Immersion/emersion epistemology, references, writing
Immersion/emersion in the design and manufacturing processes of architecture/BIM
The deadline for uploading your article or poster proposals onto the conference website,
scan2018.sciencesconf.org
, is 15 January 2018 (by 1pm).

* ARCAN -
Association de Recherche sur la Conception Architecturale Numérique
- Research Association for Digital Architectural Design
* SCAN -
Séminaire de Conception Architecturale Numérique
- Digital Architectural Design Seminar
Published on December 21, 2017
Updated on January 11, 2018