Fast Track Engineering Programme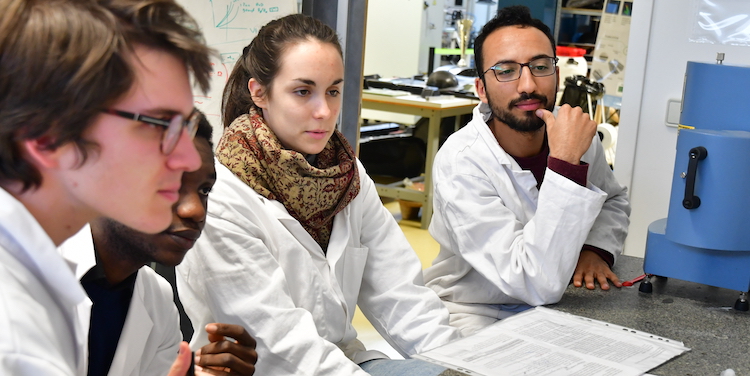 Follow our fast-track engineering programme to gain the highly sought-after diplôme d'ingénieur (Master's level) in just two years.
Centrale Nantes trains 420 students per year within its three-year general engineering programme leading to the highly sought-after 'diplôme d'ingénieur' equivalent to a Master of Science and Engineering.

Our fast-track programme gives international students who are qualified to bachelor level the opportunity to gain the same qualification in two years.

Programme benefits
Know how to tackle complex engineering problems and develop all-important soft skills
Gain professional experience with 33 weeks of internship
Earn a highly-sought after engineering qualification
Enjoy exciting career opportunities
Learn a new language and discover France
Study on a green campus close to the centre of one of France's best student cities
Join the strong alumni network
Course Content

Year 1

Broad-based multi-disciplinary engineering and scientific courses, taught in English throughout.

2023/24 Academic Year


| Autumn Semester Courses | Spring Semester Courses |
| --- | --- |
| Algorithms & Programming | Databases |
| Optimization | Data Science & Machine Learning |
| Finite Elements | Numerical approximation for PDEs |
| Numerical Analysis | Biological and medical aspects of human health |
| Signal and Systems | Mobile Robots |
| Civil Engineering | Fluid Mechanics |
| Linear Algebra | Management |
| Energetics | Strategy, Entrepreneurship and Innovation |
| English | English |
| French | French |
| Sport | Sport |


The year concludes with a two-month internship in a laboratory or in industry from June to August.



Year 2

In year 2, students focus on a technical discipline with their choice of specialisation* from around 20 on offer within the engineering programme, combined with a professional option, which focuses on a particular sector of activity or function. A 6-month internship in industry is then undertaken from early April to late September.

*NB: project-based specialisations and the doctorate specialisation are not available within the fast-track programme.



French language tuition:
A one-month intensive summer school at Cavilam is included in the programme. This, together with French language tuition in the first year helps to prepares students to follow second year courses taught in French. It is a requirement for graduation that students achieve at least an operational B2 level certification in French: 750 for TFI, 450 for TCF, DALF C1, or equivalent.


Internships: We provide careers guidance to help you find the two internships to be completed during the programme. The second year internship must be completed in a company in order to meet graduation requirements.

Admission

Applicants must either hold a bachelor degree in Science, Technology or Engineering, or be in their final year of a bachelor degree, which must be gained prior to the start of the Fast Track Programme.
Evidence of strong foundations in Mathematics and Physics.
English proficiency: IELTS 6.5 or equivalent.


How to apply

Apply online by 15 May: https://vu.fr/xQrH (applications open on 15 October)
Your application must include the following documents to be considered:

Bachelor degree certificate (if already obtained)
Curriculum Vitae
academic transcripts documenting your Bachelor grades
a statement of purpose
English proficiency test certificate (IELTS 6.5 or equivalent)
a recommendation letter

Tuition fees

€24 000 covering the two year programme.

Student feedback


Yutong, Fast Track Graduate, Class of 2021

I really appreciated the elite education system of the French engineering school, because their courses cover a wide range of specialties, and they focus extremely on practical operations during teaching. For the fast track program, we can also save a year compared with French students, so finally I chose this program. Personally, I think what this engineering program has brought to me is far more significant than a degree certificate. During this period, although our courses were exceptionally hard, I still mastered the French language. In addition, in order to look for an internship, I have submitted more than 150 applications. Finally, I found my dream data scientist internship at the French National Gendarmerie. Now, in order to continue my scientific research in the field of natural language processing, I decided to do a PhD at the University of Lyon, in the department of computer science. Although this engineering program is definitely under great pressure, this unique experience has helped me enormously improve my ability to face the challenges in the future, this is the most important.

After the programme

Career and further study prospects

80% of our engineering programme graduates secure employment within 2 months of graduation.




Published on June 9, 2020
Updated on July 4, 2023
Contact
Ms. Emily DUCOIN-CHAI
fast-track.adm

efe2c5a8-4d1f-46db-862b-b5ca52fb1e2c

@ec-nantes.fr
Programme Supervisor: Georges Salameh

Applications
Applications for 2024 entry open on 15 October
Application deadline: 15 May

Download the brochure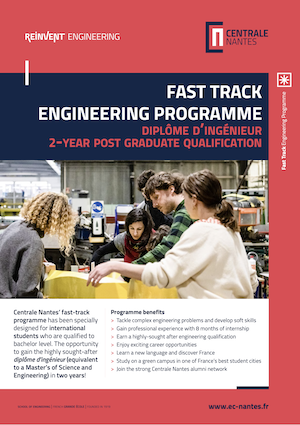 Learn more: