Japan-Europe Master on Advanced Robotics (JEMARO)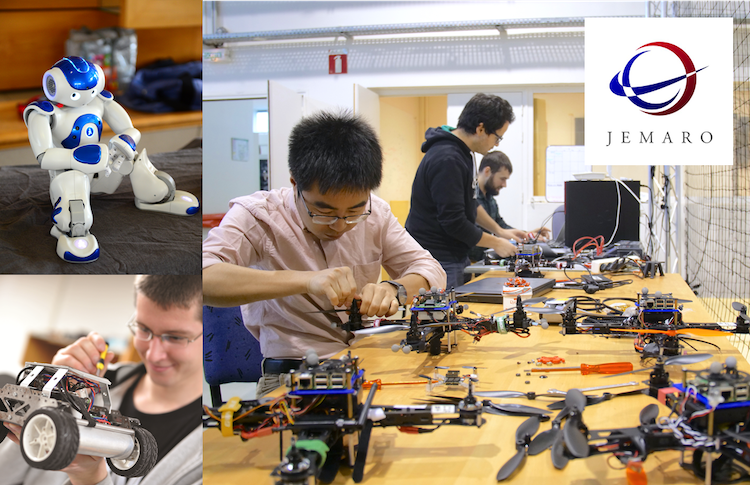 Programme Overview

The Japan-Europe Master on Advanced Robotics (JEMARO) welcomed its first intake of students in September 2020, under the Erasmus Mundus Joint Master label. This two year programme - with a year each of study in Europe and Japan - has been designed for students with strong interest in robotics and artificial intelligence.

The language of instruction throughout the programme is English. It is coordinated by Centrale Nantes in France and Keio University in Japan.


JEMARO Consortium Partners

The four partner institutions for the JEMARO programme are:

Centrale Nantes, France
Keio University, Japan
University of Genoa, Italy
Warsaw University of Technology, Poland


Watch the Campus France Replay





Course Content

The programme of study lasts two academic years (120 ECTS or 30 Japanese Credits) with the first year in Europe (at either Centrale Nantes, UNIGE or WUT) and the second in Japan (Keio University).

The aim of the first two semesters is to provide the students with a solid interdisciplinary background across the main areas of robotics (Mathematical Modeling, Control Engineering, Computer Engineering, Mechanical Design and Artificial Intelligence).

All JEMARO students will spend their second year at Keio in Japan. During the third semester, students will follow courses related to Control, Mechatronics, Robotics, Human Interface, Signal Processing and Biological Information. The fourth semester is set aside for the Master's Thesis. Students carry out their research work under the joint supervision of two advisors: one from Europe and one from Japan.


Download syllabus | JEMARO 2022/2023 at Centrale Nantes


M1 Year

Admissions

The JEMARO programme is open to holders of a university degree with the equivalent of 180 ECTS credits in the European system, comprising at least three years of studies, at Bachelor of Science level, in a field related to robotics such as:

Mechatronics, Automatic control,
Electrical Engineering,
Mechanical Engineering, System Engineering,
Applied Mathematics and Computer Science.


Applicants must have graduated before 31 July for non European students and before 30 September for European students. They must speak and write English fluently. An applicant whose native language is not English is required to pass a recognized international English test:


TOEFL (CBT 220, PBT 550, IBT 80),
Cambridge Advanced English Test (B or higher),
IELTS (6.5 or higher),
TOEIC (800)

How to apply for JEMARO

► Apply online: https://jemaro.ec-nantes.fr/english-version/admission/how-to-apply
► Learn more about the programme: https://jemaro.ec-nantes.fr

Scholarship opportunities

Applicants can apply for a consortium scholarship covering part of the tuition fees
Please note that there will be no Erasmus Mundus Scholarship for JEMARO 2024-2026 intake onwards as the EU funding received by the consortium covered 4 intakes only, the last one covered being 2023-2025


► Learn more

After JEMARO

Although the JEMARO programme relates primarily to the context of robotic systems, the concepts covered can be applied to a much wider range of other engineering and economic systems. The career prospects for JEMARO graduates are therefore excellent. They can be employed in diverse industrial and economic sectors, as the courses are relevant to today's high tech society.

On graduation from JEMARO, the student will have acquired the following skills:

In-depth scientific and technical knowledge of robotics and related AI topics and the skills to use this knowledge effectively.
Capacity to master modern techniques in developing and designing innovative and autonomous robotic systems such as modelling, simulation, optimisation, analysis, decision-making and control.
Capacity to work both independently and in multidisciplinary teams, interacting effectively with specialists and taking initiatives where necessary.
Capacity to communicate effectively (through both written and oral presentations) in an international context,
Capacity to adopt the most suitable methods for the problem at hand and select the technological components needed to implement the proposed solution.
Capacity to transfer high tech methodology from university to industry.
What our graduates/students say
Published on August 28, 2020
Updated on September 28, 2023

Contact
Apply
Applications for the 2024 intake open on 18 October 2023
Apply by 31/01/2024 to be considered for a consortium scholarship