A world first in additive manufacturing
STELIA Aerospace & Centrale Nantes have embarked on large-scale 3D metal printing of self-reinforced metallic fuselage panels.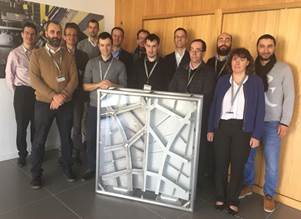 This has marked the conclusion of the DEFACTO project, whose closing meeting took place at the beginning of April at STELIA - Saint-Nazaire. This project culminated last February with the presentation of a demonstrator for self-reinforced metallic fuselage panels. The demonstrator, with stiffeners built directly into the panel surface by additive manufacturing, was produced on Centrale Nantes' rapid manufacturing research platform, under the supervision of Professor Jean-Yves Hascoët.
Research Institute in Civil and Mechanical Engineering
(GeM - UMR CNRS 6183), is an international expert in additive manufacturing, a breakthrough technology aiming for a new approach to production, where material is added by deposit and rather than subtracted by machining.
Published on April 19, 2018
Updated on May 3, 2018