Join us online for the JEMARO 2021 Information Webinar
Join us online on 16 December 2021 for our Information Webinar for all you need to know about JEMARO - Japan-Europe Master on Advanced Robotics - an Erasmus Mundus Joint Master Degree.
On December 16, 2021 All day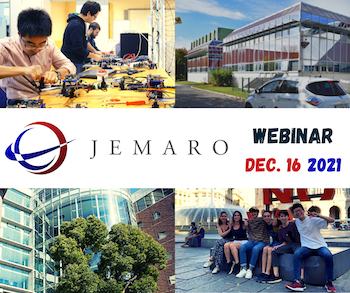 JEMARO information webinar on 16 December 2021 at 9.00 am CET | 5.00 pm JST
Register now for our Information Webinar for all you need to know about the Japan-Europe Master on Advanced Robotics (JEMARO).
The programme's coordination teams from Keio University, University of Genoa, Warsaw University of Technology and Centrale Nantes (teaching and administrative staff) will give you all the information you need about the four institutions that could host you over your studies. You'll also have the opportunity to interact with students currently enrolled in the first and the second year of the programme.
The academic content will also be covered, with a Q&A session at the end of the webinar.

More about JEMARO
JEMARO is the first joint Japan-Europe programme offering high-level academic and industrial training across the whole span of robotics (Mathematical modelling, Control engineering, Computer engineering, Mechanical design) with the technological specialisation of the associated industrial partners.

All JEMARO course units are taught in English. Students choose between Centrale Nantes (France), University of Genoa (Italy) and Warsaw University of Technology (Poland) for their first year and all attend Keio University (Japan) for their second year.
Applications are now open for 2022 entry.
Apply by 31 January to be considered for an attractive Erasmus Mundus or consortium scholarship.


Published on December 8, 2021
Updated on December 9, 2021