Graduation Classes 2018 to 2022: annual employment survey
Calling all graduates from the classes of 2018 to 2022: we need to know how your careers are progressing. The 'Conférence des Grandes Ecoles' is conducting its annual survey on the integration of 'grande école' graduates into the workplace.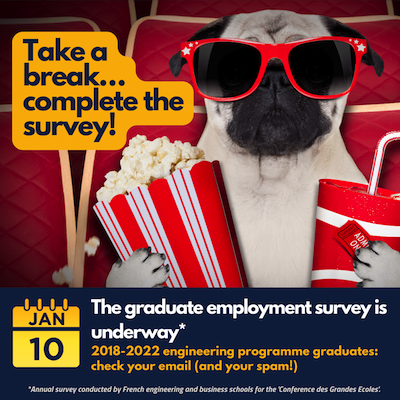 The survey is now closed. The results will be published in June.


Centraliens, we need you!
Whether you are already working, looking for a job or pursuing your studies, please take a few minutes to respond. The results of this 2022 survey on the integration of young graduates in the workplace are very important. They allow us to confirm that changes in the programmes are adapted to the company needs and to have an accurate picture of the professional integration of each graduating class.
To obtain reliable results, a minimum response rate of 80% per graduating class is required
. Individual survey responses are treated anonymously. The survey will only take
15 minutes
of your time.
Help us meet this challenge: show the strength of the network and respond to the survey. We are counting on your involvement to help us fly the Centrale Nantes flag: Centraliens, it's up to you!
To respond to the survey:
Connect to your email account
Open the email from the Centrale Nantes 'Direction de la Communication' - the survey starts on 10 January
Click on the secure link. THIS LINK IS INDIVIDUAL AND NOT TO BE SHARED WITH YOUR CLASSMATES
If you don't receive the email or would like further information please contact:
sylvie.bomski@ec-nantes.fr
Published on January 13, 2023
Updated on March 27, 2023