Visiting Professor at Centrale Nantes: Vito Rubino
Professor Vito Rubino from the California Institute of Technology will be visiting the GeM Research Institute from 31 October to 11 November at the invitation of Professor Michel Coret.
from October 31, 2021 to November 11, 2021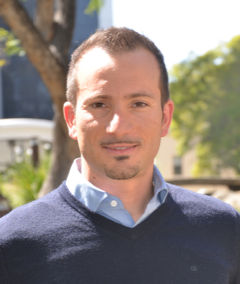 Vito Rubino is a renowned specialist on materials and structures under dynamic loading. As an expert in dynamic field measurements, he will participate in the
PM-IDICs
conference in Nantes and present a keynote on the contribution of imaging to the understanding of ultrafast shear wave propagation. (PM-IDICs is organised by J. Réthoré, M. Coret and R. Séghir).
During his visit, Michel Coret and Vito Rubino will prepare joint projects in relation to the problems of rupture in dynamics.
In particular:
on the dynamic rupture of elastomers (in collaboration with Michel Coret). Vito will participate in the thesis panel for Vasudevan Kamasamudram in December, which deals with this topic.
on the brittle fracture of architectural materials. (in collaboration with Julien Réthoré who obtained the Connect Talent IDS)
on the numerical simulation of earthquakes (in collaboration with Ioannis Stefanou who obtained the Connect Talent and the ERC CoQuake)
Vito Rubino will also give a seminar at the GeM during his stay.
Published on November 3, 2021
Updated on November 9, 2022