Anaëlle V. - Construction Engineer - Bouygues Bâtiment IDF
Class of 2016 - Double Degree in Architecture and Engineering
Published on August 22, 2017
–
Updated on February 18, 2020
"The opportunity to customise your training programme."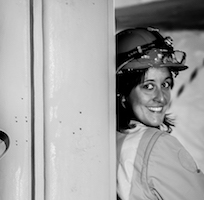 MINI PORTRAIT
Originally from Angers, I joined ensa Nantes in 2009 where I followed the double degree programme in Architecture and Engineering (ensa Nantes / Centrale Nantes). I played in the first volleyball team and I specialised in Engineering Science for Housing and Urban Environment in my final year at Centrale.
YOUR CURRENT POSITION
I am currently a Construction Engineer working on the redevelopment of the Louvre Post Office in Paris. I am in charge of the Metal Framework Lot, for a budget of €7 M.
My role includes supervising the study and delivery of building stability during the demolition phases as well as study of final stability. I am also in charge of the consultation phase and choice of subcontractor for the metal framework, the studies and delivery of the metal framework (new and existing), management of the interfaces between existing building and new building, supervision of floor studies and delivery, fire and corrosion protection for the framework (existing and new). I enjoy the high degree of autonomy granted, the responsibilities entrusted to me and I particularly appreciate the many interfaces with the other lots on the site, giving me a global vision of the site as well as in-depth knowledge of the other lots.
In the medium term, I would like to manage a site (including subcontractors) and manage site construction with a call to tender.
WHAT ASPECT OF YOUR TRAINING PREPARED YOU FOR THIS POSITION?
The double-degree programme in architecture and engineering
confers a real capacity to work in group and better responsiveness to a problem. In particular, I participated in the Solar Decathlon Europe contest to design, construct and maintain a low-energy housing unit, which involved students from different schools in Nantes and taught us how to manage a long-term project, with regard to budget, planning and team management. Finally, my architect side allows me to propose technical solutions in keeping with the philosophy of the architectural design.
WHAT DID YOU LIKE AT CENTRALE NANTES?
What I particularly enjoyed at Centrale Nantes is the cohesion amongst students, the wealth of associative life and finally the geographical setting of the school, close to the city centre.
ADVICE FOR PROSPECTIVE STUDENTS
At Centrale Nantes, we have the opportunity to customise our training. There are many options. Finally, many means are devoted to clubs and associations which is particularly fulfilling.
CENTRALE NANTES IN THREE WORDS
Sport - Lively - Choice
Published on August 22, 2017
Updated on February 18, 2020