Offshore operations over the summer
Numerous offshore operations are undertaken at SEM-REV during the spring and summer months. It is during this period that the weather conditions are more favourable, allowing work to be carried out efficiently and safely.
Spotlight on two of the operations the team carried out this summer:
On July 29th,
the team went on site to retrieve the acoustic sensor installed by the company Nereis as part of the environmental monitoring of the site
. Nereis was commissioned for this service following the FORESEA
Acoustics Of The Sea (SEAc)
project. The aim of this project was to develop a demonstrator to characterise underwater ambient noise.
The acoustic sensor already collected data over 15 days in April 2018
. During this 2020 campaign, the sensor again recorded continuously for 28 days.
The data collected will be used to model the acoustic footprint of underwater noise in order to estimate the acoustic impact of the two demonstrators hosted on site and during their operational phase
.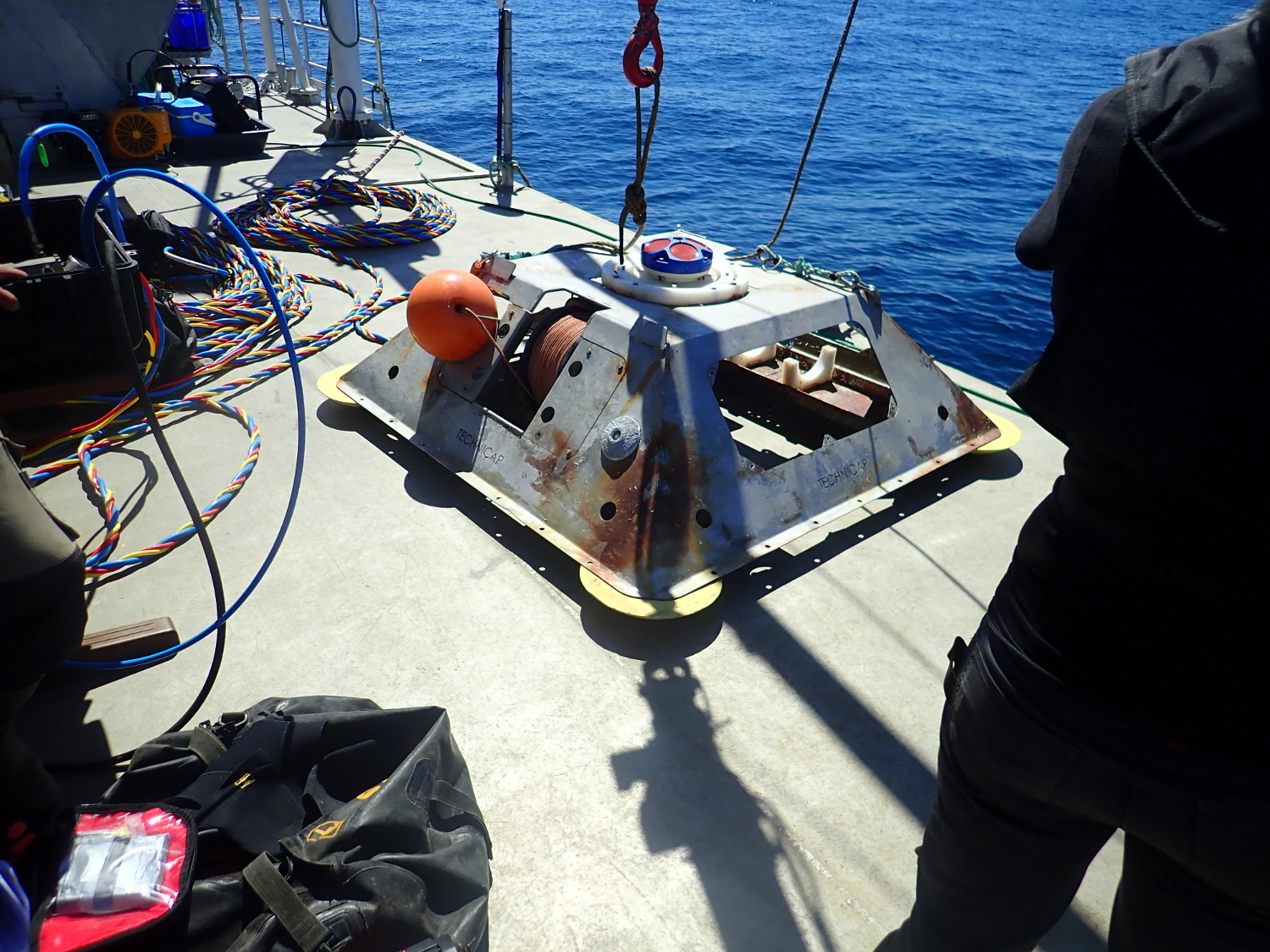 On the same day, an ADCP (Acoustic Doppler Current Profiler) was deployed on site.
An ADCP is a device used to measure water currents over a range of depths using the Doppler effect of sound waves bounced back from particles in the water column. The device was installed as part of the
Ocean Demo IBOCS
project, conducted in colloboration with the company
FMGC
. At the SEM-REV site in August 2018, FMGC installed, at a depth of 30 metres, cast iron shells that are designed to ballast underwater power cables. The tests aim to demonstrate the stability of the cables ballasted with these cast iron shells, including during heavy swell conditions.
The ADCP will help correlate any movement of the ballasted cables with current speeds.
Both projects were initiated within the framework of the FORESEA European funding programme, which has now come to an end. However, the value of the data collected has led the team to continue its collection.
Other maintenance operations took place this summer and will continue into the autumn, with for example the maintenance of the special markers that set the site's boundaries. More about this in a later news item!

To wrap up this news with a little breather at the start of the new academic year, but also the opportunity to gauge the potential of maritime energy on a daily basis, we remind you that real-time data is still available online on our "Live Data" site. You can learn more on this website about the data collected and the equipment in place on the SEM-REV site. Visit: livedata.sem-rev.ec-nantes.fr
Published on September 10, 2020
Updated on March 19, 2021